GARTERBELTS & GASOLINE 2011: The Garterbelts and Gasoline Nostalgia Festival was held from April 29th to May 2nd, 2011 at Mount Tamborine, Queensland. The Festival was a celebration of the Cars, Music, Art and Culture of the 1940's and 1950's.
All manner of events included Carnivals, Art Exhibitions, a 'Vintage Soap Box Derby' and a 'Kustom Hot Rod Show', as a self proclaimed 'speed junkie and petrol head', I concentrated exclusively on the latter two!

SOAP BOX DERBY - THE PIT REPORT: A prerequisite of all my motorsport photography is the 'pit report', the Soap Box Derby Pits, were somewhat quieter than the usual 'dino fuelled affairs', nonetheless there were some interesting contraptions:
A LINE UP OF SOME VERY TIDY SOAP BOXES
A PAIR OF VERY WELL PREPARED MACHINES, RADIATORS, BLOWERS, FULL HARNESS SEAT BELTS, JUST THE 'NORMAL' BILLY CART ACCESSORIES!

SOAP BOX DERBY - RACING: A magic 'fun' event with racing categories for children and adults, there were some fantastic creations, a few crashes and some real characters.
CHILDREN'S SOAP BOX RACES: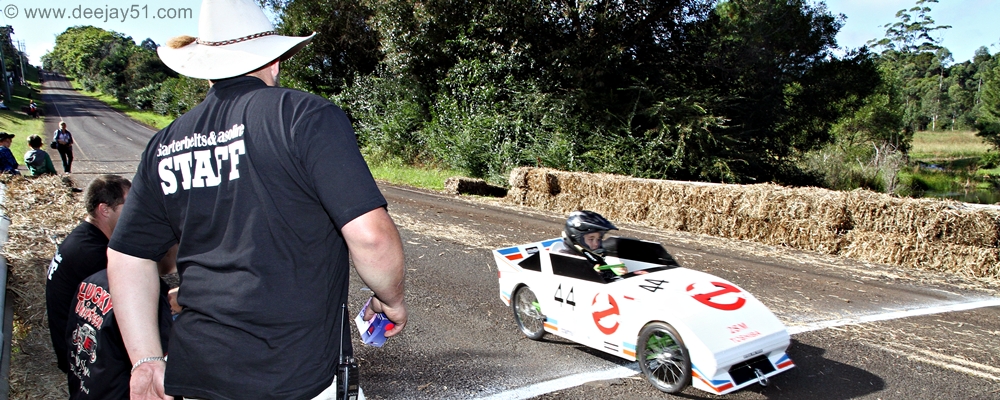 #44: GHOST BUSTERS, THE WINNER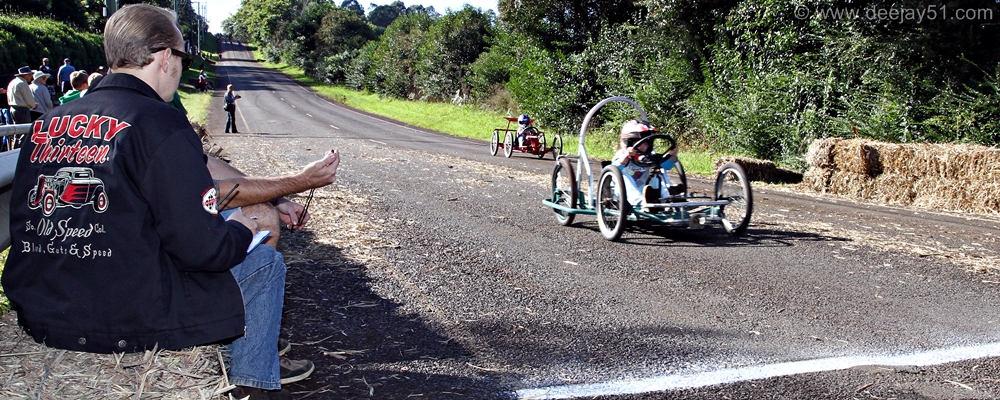 IT'S A DECENT HILL, PLENTY OF SPEED
HAPPY FACES, THAT'S WHAT IT WAS ALL ABOUT, AND WINNING OF COURSE!

'BIG KIDS' SOAP BOX RACES:
| | |
| --- | --- |
| | |
| | FINAL SOLO RUN |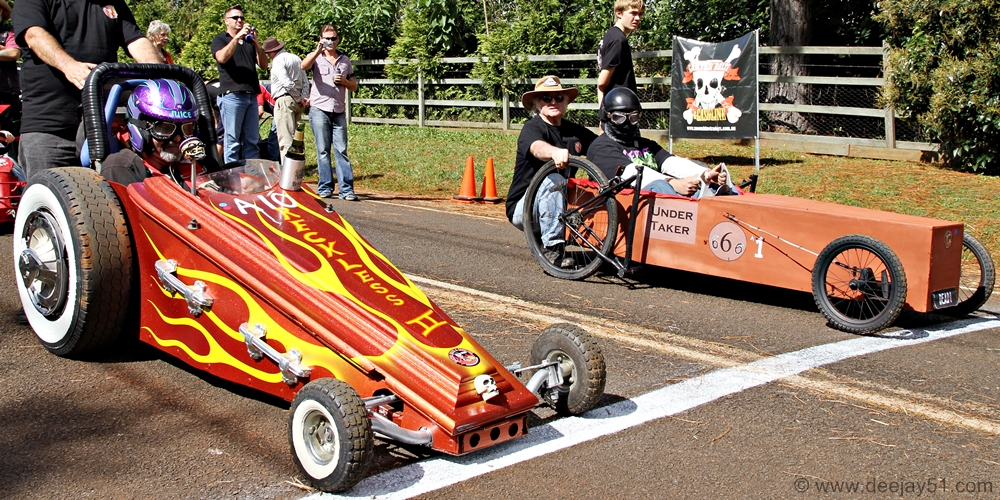 THE 'COFFIN CHEATERS' FACE OFF
THREE STARTING TECHNIQUES: 'LEAN FORWARD', 'OVERPOWER THAT STEERING WHEEL' OR 'FALL ASLEEP', THEY ALL WORKED!
| | |
| --- | --- |
| | |
| CRUISER | HAPPY FORD DRIVER |
| | |
| --- | --- |
| | |
| #666: DEVILISH SMILE! | RACOON TAIL FLYER |
| | |
| --- | --- |
| | |
| LEANING FORWARD TECHNIQUES | THE UNDERTAKER WILL GET YOU IN THE END! |
#56: HAD A REAL MOMENT, A SPOKE OR THREE++ COLLAPSED AND THE STEERING CRIED ENOUGH, OWNER: 'NO PROBLEM SORT IT FOR NEXT YEAR!'
'BIG KIDS' SOAP BOX RACE - FACIAL TECHNIQUES:
WINNING, HANG ON, LOOSING!

HAPPY AND SUPER SERIOUS
'DADS ARMY' LAY BACK TECHNIQUE...

SOAP BOX DERBY - THE TROPHIES: Immediately after the Soap Box Derby racing was completed the trophies and citations were handed out at the nearby Mount Tamborine Brewery. The Mayor of the Scenic Rim Regional Council, Cr John Brent, handed out the vast majority of the goodies and Cr Derek Swanborough was also involved.
THE 'FUELERS', RATHER APPROPRIATELY, ENTERTAINED WHILST THE OFFICIALS TALLIED UP THE ELAPSED TIMES AT TABLE #1!
| | |
| --- | --- |
| | |
| THE WINNING SOAP BOX OWNER AND HIS '44 GALLON BILLY CART' | PAUL (LHS) AND TEAM, GREAT JOB GUYS! |

KUSTOM HOT ROD SHOW: For my coverage of the 'Garters and Gasoline 2011 Kustom Hot Rod Show' please navigate to the next page...


MORE CAR SHOWS AND MUSEUMS: For more coverage of Car Shows and Museums I have attended please select from the following pages.