MERCEDES BENZ - 125th BIRTHDAY AT BROOKLANDS: I attended Mercedes Benz World at Brooklands, England for the Mercedes Benz 125th Anniversary Celebrations. There was a marvellous array of cars on display, however the real highlights for me were outside! On the Mercedes Benz World entry plaza I was delighted to meet Sir John Surtees OBE and view a magnificent display of SL300 Gullwing cars.

THE 125th ANNIVERSARY: A real milestone for Mercedes Benz, '125 years of innovation'.

SIR JOHN SURTEES OBE: A magnificent moment, Sir John Surtees OBE, so approachable and his achievement as the only person to win the 500cc World Motorcycle Championship and the World Formula One Championship is unlikely to be equalled.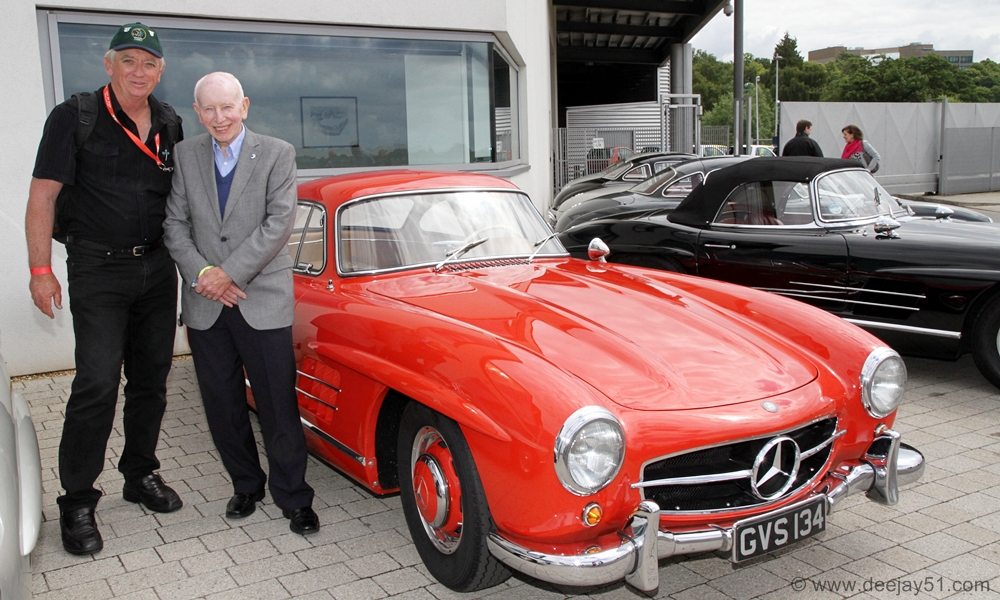 SIR JOHN SURTEES OBE, DEEJAY51 (LHS) AND A MAGNIFICENT MERCEDES BENZ SL300

MERCEDES BENZ WORLD, BROOKLANDS: A very impressive complex, perfectly sited adjacent the Brooklands Museum.
| | |
| --- | --- |
| | |
| FUTURISTIC EXTERIOR | MERCEDES BENZ CARS FOR SALE, LOVELY SLK IN THE FOREGROUND |
A THOROUGHLY MODERN INTERIOR, NOTE THE GLASS LINED LIFT

125th ANNIVERSARY EXHIBITS: A selection of some of the magnificent Mercedes Benz vehicles on display during the 125th Anniversary celebrations.
1885~86: BENZ PATENT MOTOR CAR, MODEL 1: Mercedes Benz claim that this is the first ICE powered motor car, dating from 1885~86. The car was powered by a 945cc 4 stroke single cylinder engine producing 0.75hp @ 400rpm. The inherent vibration of the single cylinder engine was masked by the massive flywheel.
1928: MERCEDES BENZ SSK: Mercedes Benz established a new era in automobile manufacture during the 1920's and 1930's with the introduction of supercharging. The SSK is powered by an in-line six cylinder engine of 7,065cc capacity, producing 170hp/125kW @ 3,300rpm normally aspirated and 250hp/184kW with the supercharger engaged. The SSK had a claimed top speed of 119mph.
1955: MERCEDES BENZ 196R 'STREAMLINER': Powered by an in-line eight cylinder engine of 2,496cc capacity, the 196R produced 290hp @ 8,500rpm. The car had a top speed of 186+mph.
1954~63: MERCEDES BENZ SL300: Gullwings, even a Gullwing Restaurant on site, and Convertibles. The SL300 remains a true masterpiece of Mercedes Benz design and implementation. Powered by a 3,000cc fuel injected engine, the car was initially released as a two seat hardtop with the classic gullwing doors, subsequent offerings included a soft top roadster.
1955~63: MERCEDES BENZ SL190: Powered by a 1,897cc engine producing 105hp @ 5,700rpm, the SL190 had a top speed of 112mph. Over 25,000 of the marque were manufactured.
1998~2006: MERCEDES BENZ GTR 2006: Released as a Homologation Series Roadster, the GTR was powered by a 6,800 litre V12 AMG engine producing 612bhp @ 6,800rpm driving through a six speed sequential manual gearbox. The car had a top speed of 199mph and only twenty five examples were manufactured, five of which were roadsters . The car was manufactured from carbon fibre with an alloy honeycomb monocoque and integrated steel roll cage.
2009: MERCEDES BENZ - MERCEDES GP PETRONAS F1 TEAM DISPLAY: 3,200 parts are suspended, dramatically deconstructing the racing chassis of a Mercedes Benz GP Petronas Formula One car. Adjacent to the racing chassis, a Mercedes Benz FO 108W F1 engine is also suspended, the engine has a capacity of 2,400cc, configured as a 90 degree V8. The engine produces in excess of 750PS @ 18,000rpm using unleaded fuel and in 2009 eight engines were assigned to each team driver for the F1 season.

MORE CAR SHOWS AND MUSEUMS: Please continue my Car Shows and Museums coverage by selecting from the following pages...