GAYDON MOTOR CENTRE: The Heritage Motor Centre located in Gaydon, Warwickshire, England houses a wide variety of vehicles linked to the history of British motoring with over 180 exhibits. The Centre has many displays clearly defining the very first cars to take to British roads, right up to present day.
Many unusual exhibits are included not the least of which is Ford's version of Lady Penelope's 'Pink' Thunderbirds Limousine. During my visit the Centre was celebrating the 50th Anniversary of the Morris Mini, hence numerous exhibits were on show. Of particular note were Paddy Hopkirk's 1964 Cooper S and Timo Makinen's 1965 Cooper S, both of which won their respective year's Monte Carlo Rally outright.

THUNDERBIRDS ARE GO!! Created by Ford of Europe's Design Team, the Ford Thunderbird based vehicle featured in the 2004 Thunderbirds film. If the 'original script' is to be believed, the vehicle was actually designed by Thunderbirds resident genius 'Brain' to allow Lady Penelope to partake in missions with International Rescue as it is capable of travel on land, water and air, all achieved with the aid of a top secret jet engine!!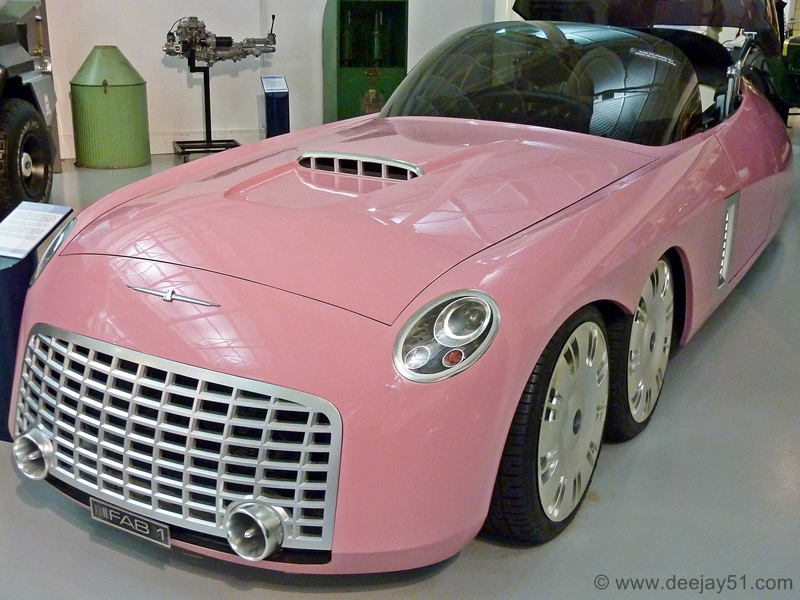 | | |
| --- | --- |
| | |
| FAITHFUL TO THE SCRIPTED DUAL FRONTS! | IT IS INCREDIBLY LONG |
| | |
| --- | --- |
| | |
| BEAUTIFULLY UPHOLSTERED | SPACE AGE CONTROLS |

THE MINI AT 50!!: The 50th Anniversary of the Morris Mini was well in hand during my visit with displays of the first Morris Mini and the latest version. Monte Carlo Rally winning Cooper S cars were also displayed. The Timo Makinen/Paul Easter 1965 Monte Carlo outright winner is shown immediately below.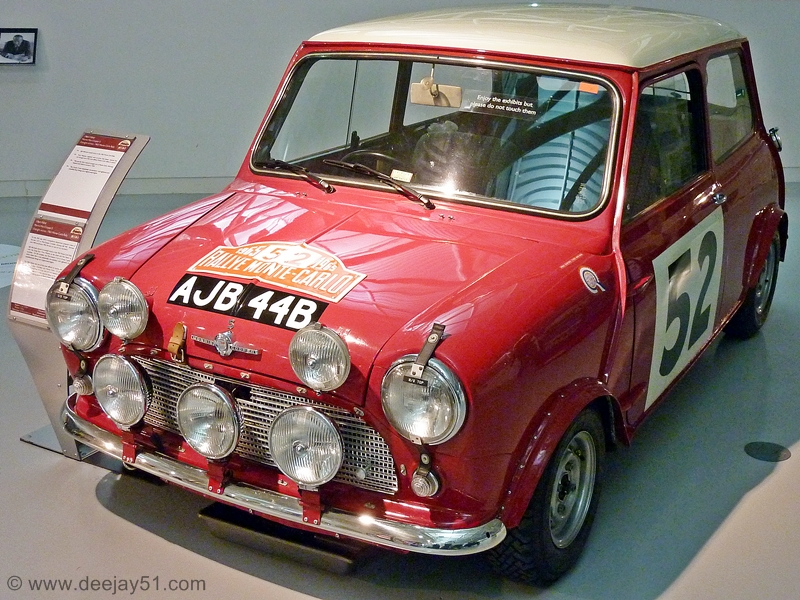 | | |
| --- | --- |
| | |
| '621 AOK' THE FIRST MORRIS MINI, MANUFACTURED 8-5-1959 | THE LATEST MINI COOPER STYLING (2009) |
| | |
| --- | --- |
| | |
| CUTAWAY OF AN EARLY MORRIS MINI | 50TH CELEBRATIONS 'INFO SCREEN' |
PADDY HOPKIRK'S 1964 MONTE CARLO RALLY OUTRIGHT WINNER AND 'RALLY START DISPLAY'

MORRIS GARAGES 'MG': Numerous displays of MG's including a cutaway MGB are featured, I was amazed at the beautiful shape of the 'MG EX 181 Record Car' and the quality and finish of MG Concept Cars, in particular the 'MG EX-E Concept Car' of 1985, thoroughly modern even in 2010.
CUTAWAY OF AN MGB, INCLUDING THE DETAILED ENGINE
MG EX 181 'RECORD CAR', IN 1957 STIRLING MOSS ACHIEVED 395.5KMH AND IN 1959 PHIL HILL 410.5KMH, AT BONNEVILLE, USA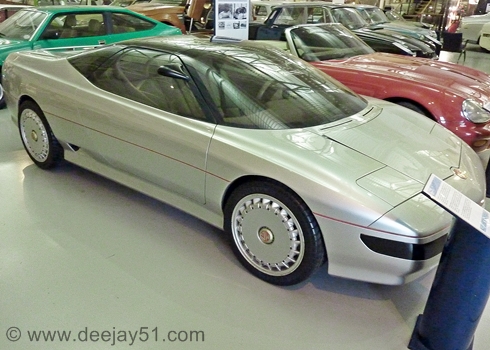 1985: MG EX-E CONCEPT CAR. 3 LITRE V6, 4WD, 250PS IN ROAD TRIM AND 410PS IN RACE TRIM, OF COURSE IT NEVER WENT AHEAD!!

JCB DIESELMAX LAND SPEED RECORD HOLDER: RAF Wing Commander Andy Green, Thrust SSC outright land speed record holder, is also involved with this car, a diesel powered car incorporating two 5 litre JCB444 'Backhoe Loader' engines, each tuned to achieve 750PS with 1,500NM of torque.
In 2006 Andy Green drove the car to a new record speed for diesel engine driven cars of 563.418kmh, shattering the previous record of 379.402kmh.
THE JCB 'DIESELMAX' LAND SPEED RECORD HOLDER

MORE CAR SHOWS AND MUSEUMS: Please continue by selecting from the following pages...