The 'GREEN' TT Zero: The second year of ZEV racing on the Isle of Man suggested a significant move forward in terms of technical innovation, entrant support and most critically, wider acceptance by motorcycling fans, unfortunately the TT Zero event suffered due to a number of circumstances which included unsettling relations between the TT Organisers, TTXGP and the FIM, the very LAST THING Electric Racing needs.
I believe ZEV racing, certainly on the Isle of Man, has generally witnessed 'retrogression' in all aspects. It is a very sad state of affairs as I truly believe ZEV racing is the future in all forms of motor sport, a sport which should show the lead in current and future trends in all forms of engine development for the masses.
The saddest aspect of this year's TT Zero was personally witnessing the departure of race fans en mass before the 'race' had even begun, this particularly included VIP Guests in the Grandstand, without hesitation I find that an undignified and inappropriate activity by race fans anywhere, especially at the Isle of Man TT!
There was one (1) extremely promising Team at the TT Zero, the Motoczysz Team entered their latest ZEV racing motorcycle called the 'E1pc' and they are to be congratulated for supporting the TT. The 'E1pc' is truly a unique professionally built machine offering both performance and the futuristic appearance needed to capture the media and race fans attention. From a purely visual perspective if this machine was displayed alongside current Senior TT, WSBK and MotoGP machinery it would win any contest as the most futuristic motorcycle. Suffice to say the motorcycle in the hands of United States rider Mark Miller won the TT Zero race with limited competition, achieving a 96.82mph (155.90kmh) average race lap and a measured maximum speed of 141mph, (227kmh). Mark's speed differential passing other competitors was to say the least impressive!

THE TT ZERO PIT AREA: Certainly a vastly reduced area in terms of space, sub station! and hype compared to the inaugural 2009 TTXGP. With Electrical Safety issues upmost in mind I visited the TT Zero Pit area, located at the rear of the ICE TT Paddock. Sadly there were very few entries, some teams were well equipped whilst others were operating out of a basic tent. The most encouraging feedback I obtained was the retention of lower voltage, higher amperage battery stacks. Generally peak voltages in the range of 90V to 120V were claimed. I have taken great interest in the evolution of Electric, Hybrid and Hydrogen Fuel Cell Drives for many years and in particular the Electrical Safety implications.
The winning Team Agni team of 2009 whilst entering two motorcycles were way behind in their preparation, the #2: Team Agni motorcycle, to be raced by England's Jenny Tinmouth, arrived in pieces on the designated race day! Deejay51 assisted getting the 'gutted' donor Suzuki motorcycle out of it's trailer, onto the race stand and I was granted a considerable degree of 'photography access' to the #2: Team Agni Tent during a somewhat hurried build program, a huge thankyou to Arvind Rabadia and Cedric Lynch for that. Both gentlemen persisted with the motorcycle's construction, ultimately meeting the rain delayed race day deadline, allowing Jenny to take her place on the grid, interestingly the motorcycle/rider combination obviously had not practiced or qualified for the race.
I was amazed when I saw the #1: Team Agni motorcycle fitted with a dustbin fairing, I was even more amazed when I overheard a #1: team member express an opinion to an ITV Interviewer that the strong cross winds likely to be experienced during the race posed no greater risk to a race rider using a 'dustbin' as compared to today's accepted 'streamlined' fairings. In my opinion 'dustbins' are marvellous for outright 'straight line' speed, for example land speed record attempts at Bonneville (USA) and Lake Eyre (AU), they are less than ideal for motorcycle road racing and I understood they had been banned from racing by the FIM in the late 1950's.
#1: TEAM AGNI PIT IMAGES:
SUZUKI DONOR MOTORCYCLE FITTED WITH THE OBLIGATORY TWIN AGNI MOTORS AND AMAZINGLY, A DUSTBIN FAIRING!
MOTORS JOINED WITH A COMMON DRIVE AXLE, (NOTE EXPOSED MOTOR TERMINALS) AND THE REMNANTS OF A 'LUNCHED' MOTOR.
#2: TEAM AGNI PIT IMAGES:
ORIGINAL RACE DAY URGENCY, CEDRIC WAS CONFIDENT OF MEETING THE ORIGINAL RACE DEADLINE, HMM..

COMPACT MOTORS/DRIVE SPROCKET
ARVIND AND CEDRIC FINISHING THE MOTORCYCLE ON THE 'DELAYED RACE DAY MORNING' FOR DELIVERY TO JENNY TINMOUTH'S PIT GARAGE
THE MOTORCYCLE ARRIVES AT JENNY'S PIT FOR 'SEAT AND RACE STICKERS FIT OFF' PRIOR TO SCRUTINEERING AND THE GRID! (NO PRACTICE)!!
#3: MOTOCZYSZ PIT IMAGES:
| | | |
| --- | --- | --- |
| | | |
| WITHDRAWABLE BATTERIES | FUTURISTIC DESIGN, EXCELLENT WORKMANSHIP | QUALITY ELECTRICALS |
| | | |
| --- | --- | --- |
| | | |
| THAT WORKMANSHIP AGAIN! | PROTECTED OIL COOLERS | CENTRAL SPRING TOWER ADJUSTER |
MARK MILLER, RESOLVING THE BEST 'ON BOARD' CAMERA LOCATION!

MICHAEL CZYSZ CHECKING POSSIBLE 'CHAIN ALIGNMENT/NOISE' ISSUES
#4: MAN TTX PIT IMAGES:
A SOMEWHAT SIMPLIFIED OVERALL DESIGN
UNIQUE TAIL PIECE

TWIN AGNI'S, BASIC INSULATION TO MOTOR TERMINALS

EVERY SPACE UTILISED
#6: SERT PIT IMAGES:
THE SWEDISH 'SERT' TEAM HAD A MOTOR FAILURE, A REPLACEMENT ARRIVED BY AIR ON THE DELAYED RACE MORNING
#9: KINGSTON UNIVERSITY PIT IMAGES:
KINGSTON UNIVERSITY CLAIMED SUPERIOR BATTERY CAPACITY AND MOTOR TORQUE COMPARED TO THEIR 2009 TTXGP ENTRY

THE START: A total of eight (8) entrants greeted the starter's flag compared to initial rumours of eighteen and the program listing of fifteen. No fanfare, no grid girls, almost NO NOISE and sadly very few spectators!
| | |
| --- | --- |
| | |
| #1: TEAM AGNI MOTORS (UK), ROB BARBER | #2: TEAM AGNI MOTORS (UK), JENNY TINMOUTH |
| | |
| --- | --- |
| | |
| #3: MOTOCZYSZ (USA), MARK MILLER | #4: MAN TTX (IOM), JAMES McBRIDE |
| | |
| --- | --- |
| | |
| #6: SERT (SWEDEN), CHRIS PALMER | #7: ECOLVE (UK), MARK BUCKLEY |
| | |
| --- | --- |
| | |
| #9: KINGSTON UNIVERSITY (UK), GEORGE SPENCE | #21: INNOSCOOTER/ELECTROROLLER, GILBO |

THE ROSTRUM: The #3: Motoczysz Team took the chequered, with a standing start lap time of 23 minutes 22.89 seconds from #1: Team Agni (25 minutes 21.19 seconds) and third #4: Man TTX (25 minutes 32.13 seconds). #2: Jenny Tinmouth just missed a podium with a fourth place time of 25 minutes 39.50 seconds. Clearly Motoczysz finished nominally 'two minutes' ahead of the competition on corrected time, over one lap.
| | | |
| --- | --- | --- |
| | | |
| MARK SALUTES THE CROWD | ROB BARBER, MARK MILLER, JAMES McBRIDE (l to r) | MARK AND THE TT ZERO TROPHY |

MICHAEL CZYSZ: 'REFLECTIONS':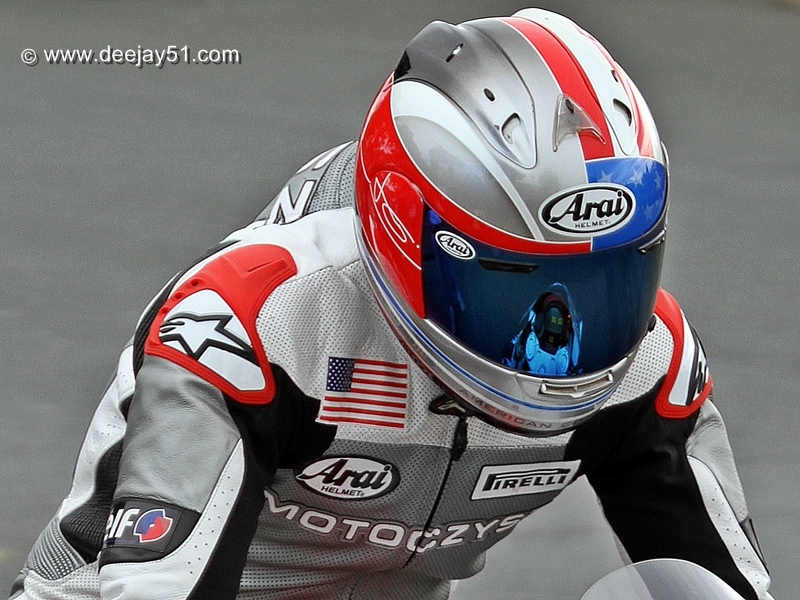 THE FUTURE OF TTZERO/TTXGP/ZEV RACING: Hopefully sanity will prevail and under the auspices of the FIM, a fully sanctioned international standard ZEV race series can prosper. My predictions:
| | |
| --- | --- |
| | Replacing the 125cc MotoGP Class: The window is nearly open on the international racing scene for 125cc two stroke racing to stand aside for another class of racing, June 2010 rumours suggest a Single Cylinder 250cc 4 stroke Class will replace the 125's. A golden opportunity exists NOW to not only replace the 125's but also 'slot in' a ZEV race between the 250's and Moto2 races, all preceding the day's MotoGP race. The FIM and MotoGP Organisers have the opportunity to further the cause of 'alternate fuel' and 'quieter' racing by implementing ZEV racing as a matter of urgency and to show leadership in the overall motorsport arena. |
| | One Class: One class of racing, with no sub classes. Allowing for ZEV battery powered motorcycles to compete directly with alternate ZEV power sources, in particular Hydrogen Fuel Cell. |
| | ZEV Racing Motorcycles Evolution: I believe future trends in ZEV Motorcycle Racing will witness the introduction of Hydrogen Fuel Cell power plants to reduce the complexity, weight and bulk of battery sourced on board power. Further that electric motors will find their correct location in the hub of both front and rear wheels eliminating belt, chain and sprocket drives. This will also reduce sprung weight and offer switchable one and two wheel drive for motorcycles. |

MORE TT2010 COVERAGE: Please continue my 'TT2010 coverage' by selecting from the following pages...