The Senior Race: So much history was weighing on the Senior, the opportunity for Ian Hutchinson to win five ICE TT solo events in the one year and overtake Phillip McCallen's record of four TT wins, achieved in 1996.
Originally scheduled as a six lapper, the Senior was red flagged during the third lap following a horrific fiery crash involving Guy Martin. By the time the news came through of Guy's crash I had made my way from Hailwood House to the grandstand, suffice to say the entire Glencrutchery Road area fell silent awaiting 'any news' on Guy's condition. When some generally good news was announced the entire grandstand burst into applause, it was a very special moment. Some time passed whilst the accident scene was attended to including a massive fire from Guy's Fireblade fuel tank, which burst on impact.
The restart was rescheduled as a four lap race, certainly the Relentless Suzuki team took full advantage of the restart as both #1: Bruce Anstey and #6: Cameron Donald had failed to complete the initial two laps of the now cancelled original race. Unfortunately for Cam the second start only amounted to one lap and a rather abrupt handover of the Suzuki to his team mechanics in the pits! Bruce had a more successful 'second' race, finishing in third place.
Incredibly John McGuinness outed with a broken chain whilst holding over 20 seconds lead in the Senior of 2009 again struck trouble, dicing with Ian Hutchinson and Conor Cummins for the lead, John's HM Plant Honda Fireblade failed due to reported electrical problems. #10: Conor Cummins, McAdoo Kawasaki established a very strong second place behind Hutchinson only to crash suffering arm and leg injuries. The net result was that Ian Hutchinson was now unchallenged in the lead bringing his Padgett's Racing Honda Fireblade home to complete an amazing TT week for the team. #12: Ryan Farquhar claimed second place for MSS Colchester Kawasaki and #1: Bruce Anstey finally had some machine reliability, finishing third for Relentless Suzuki.
The rostrum celebrations were enhanced by the attendance of MotoGP star, Jorge Lorenzo, Jorge congratulated Ian Hutchinson on his dual achievement of a Senior TT win and five TT wins in the one year. It is worth noting here that Jorge in a very similar manner to his MotoGP team mate Valentino Rossi's visit of 2009, did not overstate his presence in any way at the TT, a totally professional young man, genuinely interested in the TT.

THE START: Selected Images from the originally scheduled six lap race start...
| | |
| --- | --- |
| | |
| #2: HM PLANT, 1000cc HONDA, JOHN McGUINNESS (UK) | #4: PADGETT'S RACING, 1000cc HONDA, IAN HUTCHINSON (UK) |
| | |
| --- | --- |
| | |
| #10: McADOO KAWASAKI, 1000cc KAWASAKI, CONOR CUMMINS (IOM) | #31: PENZ13.COM, 1000cc BMW, RICO PENZKOFER (GER) |
| | |
| --- | --- |
| | |
| #53: SPEEDFREAK/ICE VALLEY, 1000cc BMW, PAUL SHOESMITH (UK) | #78: CSC RACING, 1000cc BMW, MARIA COSTELLO (UK) |
AROUND THE CIRCUIT: Various images captured around the circuit...
#2: JOHN McGUINNESS (UK), PRESSING ON AT BALLAUGH BRIDGE
| | |
| --- | --- |
| | |
| #1: BRUCE ANSTEY (NZ), EXITING RAMSEY HAIRPIN | #4: IAN HUTCHINSON (UK), PRESSING ON AT BALLAUGH |
| | |
| --- | --- |
| | |
| #5: KEITH AMOR (UK), AT GOVERNOR'S BRIDGE | #6: CAM DONALD (NZ), PRESSING ON AT BALLAUGH |
| | |
| --- | --- |
| | |
| #10: CONOR CUMMINS (IOM), EXITING RAMSEY HAIRPIN | #53: PAUL SHOESMITH (UK), MAXED OUT COMPRESSION AT BALLAUGH |
#8: GUY MARTIN (UK), GOING FOR IT AT BALLAUGH BRIDGE

#8: GUY MARTIN'S PIT STOP: Guy's pit stop at the end of the second lap appeared routine, it all transpired directly in front of me. The new rear tyre appeared just that, brand new, it continues to amaze me that replacement tyres are NOT pre scrubbed before fit off. This is to my mind critical in racing and is also very important for road bikes!, shiny new tyres/tread might look good, but that's all!!
THE FRONT TYRE WAS NOT CHANGED, NEW REAR FITTED, NOT SCRUBBED
NEW HELMET VISOR FITTED AND A PUSH OFF BEFORE THE CRASH

PIT STOPS/RED FLAG: Various images of other pit stops, before and subsequent to the red flag restart...
| | |
| --- | --- |
| | |
| #2: JOHN McGUINNESS, GREAT PIT STOP | #4: IAN HUTCHINSON, CHECKING THE TYRE CHANGE |
| | |
| --- | --- |
| | |
| #10: CONOR CUMMINS, VERY SLOW REAR WHEEL CHANGE | #22: WILLIAM DUNLOP, NEVER SEEMED HAPPY WITH THE BIKE |
RED FLAG, RACE ABORTED FOLLOWING THE GUY MARTIN CRASH. CLEARLY #8: GUY WAS VERY WELL PLACED, #4: IAN DROPPED BACK A PLACE!
#6: CAM DONALD'S 'SECOND' RACE ENDED AFTER ONE LAP, THE LOOK BACK AT THE MECHANIC SAID IT ALL!! (centre pic).
| | |
| --- | --- |
| | |
| #1: BRUCE ANSTEY, HECTOR MAKING SURE! | #4: IAN HUTCHINSON, ROUTINE PIT STOP |

THE ROSTRUM: Ian Hutchinson, a staggering achievement, five wins in one week at the most dangerous and most exacting road racing circuit in the world. Frankly the achievement makes one reassess the appreciation of all other motor racing wins of all types throughout the world, a true yardstick for the future!!
| | | |
| --- | --- | --- |
| | | |
| IAN HUTCHINSON | R.FARQUHAR, JORGE LORENZO, IAN HUTCHINSON, B.ANSTEY (l to r) | HISTORY MAKING WINS |
THE CHAMPAGNE FLOWED BIG TIME FOR IAN!!

JORGE AND IAN

IAN HUTCHINSON: 'COMMITMENT':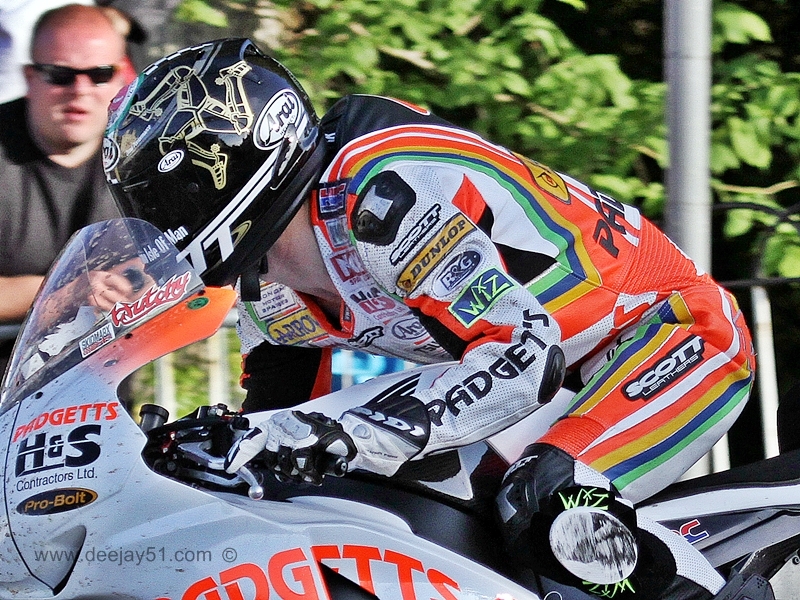 MORE TT2010 COVERAGE: Please continue my 'TT2010 coverage' by selecting from the following pages...