BROOKLANDS RACING: Racing at the Brooklands Double 12 includes driving tests and a Concours d'Elegance over two days, seemingly every type of car, motorcycle and even a pair of Segway's had a go at the Hill Climb, then there was the matter of hauling a car up the hill with ropes and a new record time was set.

THE HILL CLIMB:
BENTLEY POWER: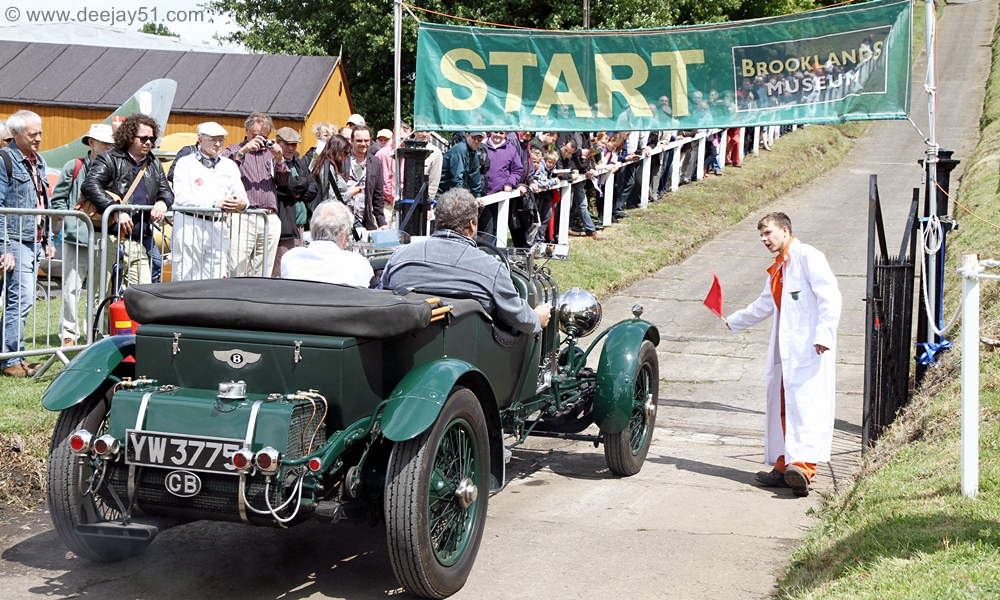 THE FLAG DROPS AND A BENTLEY CHARGES UP THE HILL
ROLLS ROYCE - MERLIN POWER:
SELECTED HILL CLIMB ENTRANTS:
THE HILL - SEGWAYS AND MAN POWER: Two Segways had a go at the hill, both floundered just after half way, surprisingly they were ridden successfully back down the hill. A new record was set hauling a 'car' up the hill.
SEGWAY 'HILL CLIMB' MACHINES

MAN POWER 'EVENTUALLY' MADE IT TO THE TOP
THE HILL - STARTLINE FACIAL EXPRESSIONS: All these images were captured in the 'staging area' just prior to the drivers and riders undertaking their hill climb run, some competitors had a certain look about them!

THE DRIVING TEST: Utilizing part of the original Brooklands Banking, the driving tests consisted of various manoeuvres around hay bales.

THE SPEED SPRINT ON THE MERCEDES BENZ WORLD CIRCUIT:
THE 1907 BERLIET-CURTISS RACER SHOWED AN ENORMOUS TURN OF SPEED
| | |
| --- | --- |
| | |
| THE 1902 DENNIS | THE 1913 MERCEDES RENNWAGEN |
| | |
| --- | --- |
| | |
| #17: | #28: |
| | |
| --- | --- |
| | |
| #29: | #36: |

MORE BROOKLANDS COVERAGE: Please continue my 'Brooklands coverage' by selecting from the following pages...