BROOKLANDS AND DEEJAY51: I am very proud to now own a 'square yard' of the Brooklands Banked Track, to clarify I have purchased a 'square yard' to assist the Brooklands Museum to raise much needed funds to secure the future of the world's first purpose built motor racing circuit which dates back to 1907.
Of course I didn't just purchase any 'square yard', The Brooklands Museum have permanently linked each 'square yard' to Brooklands history and my selection commemorates the memory of John Rhodes Cobb, (2 Dec 1899 ~ 29 Sept 1952), hereinafter referred to as Cobb. Born in Esher, Surrey, England which just happened to be close to the Brooklands Race Track, Cobb raced on both land and water and my 'square yard' has been particularly linked by the Museum to Cobb's all time outer circuit record lap speed of 230.84kmh (143.44 mph) set on the 7 October 1935. Cobb also set the fastest speed ever measured on the race track of 244.56kmh (151.97mph), these massive speeds were set in an equally massive race car, the Napier-Railton. In 1947 Cobb set the absolute land speed record at Bonneville, Utah, USA in 1947, driving the Railton-Mobile Special he achieved a speed of 634.39kmh (394.19mph), the record stood until 1963.
John Rhodes Cobb sadly lost his life pursuing an absolute water speed record of over 320kmh (200mph) on Loch Ness, Scotland in 1952.

MY SQUARE YARD: My 'square yard' is highlighted on the following graphic and the approximate location relative to the bridge is shown on the actual Brooklands Banking image taken at the Brooklands Double 12 of 2011.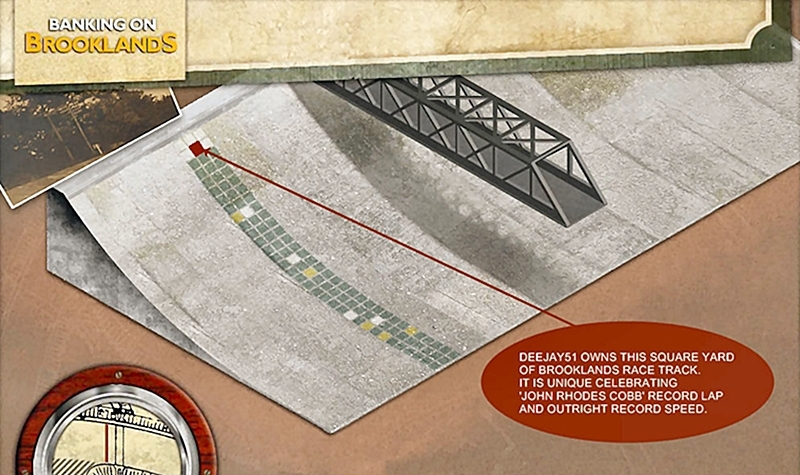 DEEJAY51'S 'SQUARE YARD', MY PERMANENT LINK WITH BROOKLANDS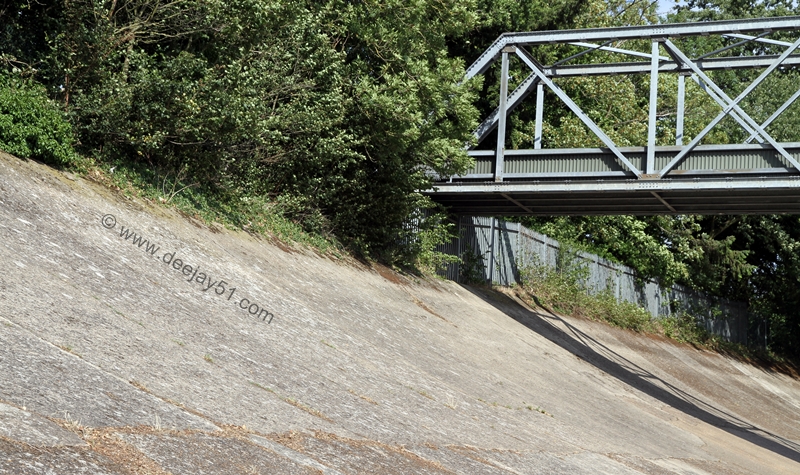 THE APPROXIMATE LOCATION OF THE DEEJAY51 'SQUARE YARD' ON THE ACTUAL BROOKLANDS BANKING

MORE BROOKLANDS COVERAGE: Please continue my 'Brooklands coverage' by selecting from the following pages...