WENDOVER AIRFIELD: The airfield is located approximately 160kmh west of Salt Lake City, Utah, USA. The site was chosen by Colonel Paul Tibbets for the testing and training of the 509th Composite Group and assembly of prototype nuclear weapons. No radioactive material was used at Wendover, however over 150 prototype weapons of both the 'Little Boy' and 'Fat Man' bombs were assembled and test dropped on the nearby Salton Sea and Wendover ranges.
SOME AMAZING FACTS ABOUT WENDOVER AIRFIELD: The Wendover bombing and gunnery range covered three and a half million acres and it was the largest military reserve in the world. Approximately 20,000 military and civilian personnel were at Wendover at it's operational peak and over 1,000 air crews trained there. Six B-17 and twelve B-24 Bomb Groups were formed and trained at Wendover. The Wendover Airfield is the most original remaining Army Air Corps Base in the USA, with six original hangars on the flight line and over ninety World War II era buildings and structures. Training at Wendover Airfield during World War II was ongoing 24 hours per day with over 100 Bomb Groups on the field at times.



THE CONTROL TOWER: The original Wendover Airfield Control Tower, the facility was restricted to radio and runway lighting to assist air traffic controllers to direct heavy traffic as the Tower did not have radar throughout World War II. The Tower is approximately 7.3 metres square and nominally 18.3 metres high.
THE ORIGINAL CONTROL TOWER

THE BOMB SQUADRON HANGAR: Manufactured from wood, a total of four hangars were built in 1942~1943. Each hangar faced the 'aircraft anchorage apron' and incorporated ten rolling doors that accommodated B-17 and B-24 aircraft. A coal fired boiler was installed in each hangar to provide heat.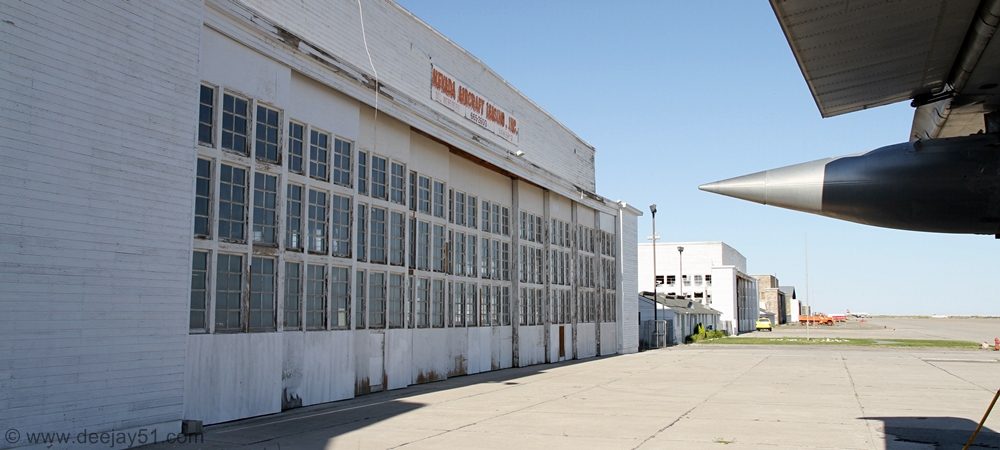 AN ORIGINAL BOMB SQUADRON HANGAR

THE NORDEN BOMBSIGHT: The Norden Bombsight was used by the United States Army Air Force (USAAF) and the United States Navy (USN) during World War II, subsequently the bombsight was used by the United States Air Force (USAF) in the Korean and Vietnam conflicts. The bombsight incorporated a mechanical computer, linked to the aircraft's autopilot to calculate a bomb's trajectory allowing for wind, airspeed etc.
THE NORDEN BOMBSIGHT

THE 'LITTLE BOY' ATOMIC BOMB REPLICA:
THE 'LITTLE BOY' REPLICA
| | |
| --- | --- |
| | |
| COLONEL PAUL TIBBETS, SIGNATURE ON THE BOMB CASING | SIGN ADJACENT THE BOMB DISPLAY |

MORE AVIATION COVERAGE: Please continue my 'Aviation coverage' by selecting from the following pages...