RAF MANSTON MUSEUM: The RAF Manston Museum in Ramsgate, Kent, England is dedicated to the memory of the Pilots and Aircrew of the RAF that performed heroically throughout the Battle of Britain and continued their commitment throughout the Second World War.
Two separate exhibition halls commemorate the Supermarine Spitfire and the Hawker Hurricane, both aircraft played a pivotal role in the Battle of Britain and subsequent theatres of war throughout Europe and the Middle East.

SUPERMARINE SPITFIRE MK XVI (LF) - Type 361, Serial TB752: One of the few surviving Spitfires in the world that can claim wartime service, TB752 was manufactured in 1944 at Castle Bromwich. In March 1945 TB752 was delivered to 66 Squadron, RAF Linton-on-Ouse, England. Armament included 2 x 20mm cannons and 4 x 0.5mm machine guns with a bomb capacity of 1 x 500lb and 2 x 250lb.
TB752 was used initially to attack German road and rail targets in Holland and Germany. Wartime damage to the aircraft was mainly due to an undercarriage failure during landing, subsequent repairs allowed pilots to claim various German aircraft 'kills'. The aircraft survived the war, neglected for many years it was returned to Manston in 1955 and was placed on display at the Station Gate.
In 1978, following years of corrosion, the aircraft was restored by the Medway Branch of the Royal Aeronautical Society, over 15,000 restoration hours were logged. Returned to Manston in 1979 the aircraft became the subject of a fund raiser to cover the costs of a permanent display shelter. The Museum confirmed there were 22,000 Spitfires manufactured and only 179 survive, most of which are deemed 'wrecks'.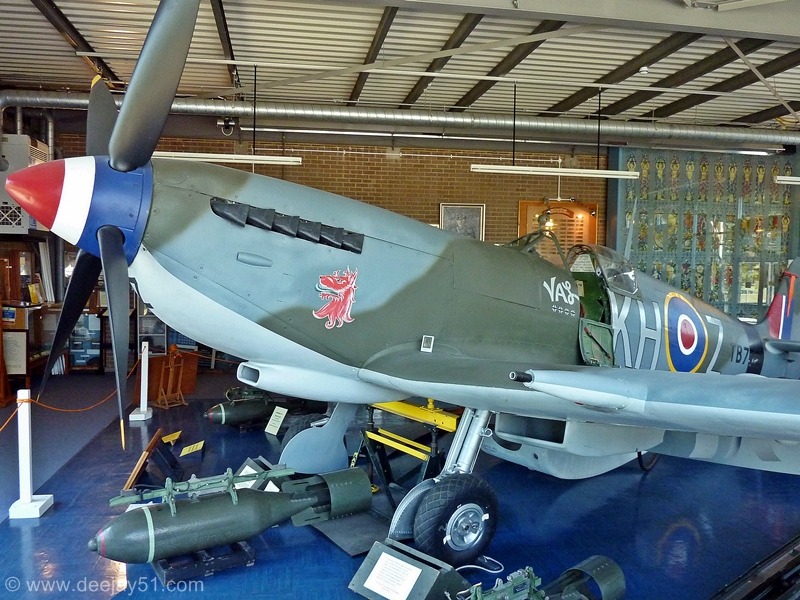 | | |
| --- | --- |
| | |
| ROLLS ROYCE MERLIN ENGINE, 'MADE IN THE USA!' | WINSTON CHURCHILL 'THROUGH THE COCKPIT' |
| | |
| --- | --- |
| | |
| MAGNIFICENT CONDITION | 'FOUR KILLS' |

HAWKER HURRICANE IIc - Serial LF751: Displayed as BN230 of 43 Squadron RAF, coded FT-A, this Hurricane was built at Langley UK in 1944. The aircraft was assigned to training duties including No. 1681 Bomber Defence Training Flight and No. 27 Operational Training Unit.
LF751 was cannibalised to keep Hurricane LF363 airworthy for Battle of Britain Memorial Flight duties. Ultimately LF751 was refurbished for long term external display. For nearly thirty years the aircraft was displayed at the gate of RAF Bentley Priory, the Headquarters of No. 11 Group, Fighter Command.
The aircraft was restored by the Medway Branch of the Royal Aeronautical Society, over 22,000 restoration hours were logged at a cost of £18,000.00.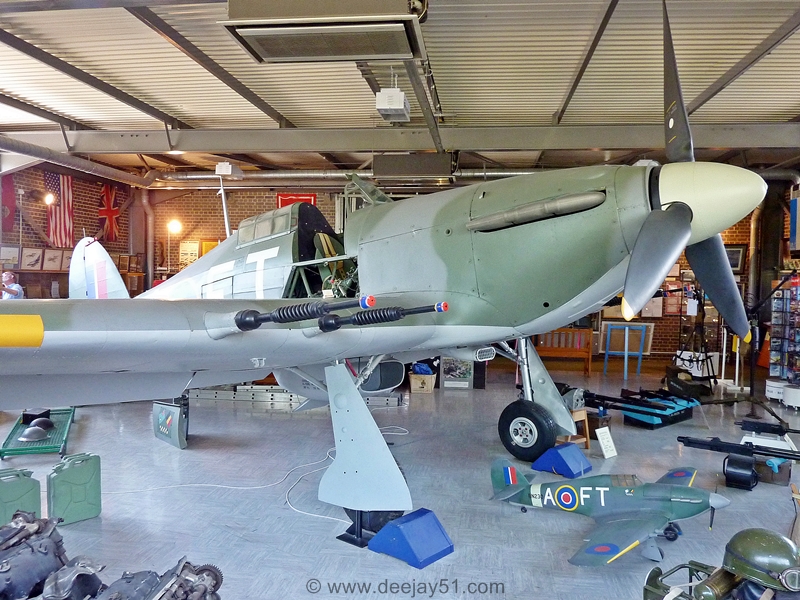 | | |
| --- | --- |
| | |
| MAGNIFICENT CONDITION | OPTIONAL ARMAMENT |
| | |
| --- | --- |
| | |
| TAIL FIN AND RUDDER LOCKS | ARMAMENT |

THE MUSEUM AND GROUNDS: The Museum is located on the exterior of RAF Manston Airbase. The 'Spitfire' Memorial Museum Building was officially opened on 13th June 1981, the Hurricane Memorial Museum Building was opened by Dame Vera Lynn on 7th October 1988 and the Merlin Cafeteria was opened in 1993.
MEMORIALS
| | |
| --- | --- |
| | |
| HURRICANE MUSEUM EMBLEM | SPITFIRE MUSEUM |

MORE AVIATION COVERAGE: Please continue my 'Aviation coverage' by selecting from the following pages...