THE DIDCOT RAILWAY CENTRE, DIDCOT, UK: Continued...

TURNTABLE: The turntable is a replacement for a 1932 GWR turntable that was removed by British Rail before the Great Western Society arrived at Didcot. The turntable is 21 metres long and can accommodate the largest Steam Tender Locomotive. Incredibly it is operated entirely by hand by pushing on levers or by operation using a geared winding mechanism.
The nameplate on the turntable states the Manufacturer as Ransomes and Rapier Ltd, Ipswich, England, 1935 and the working load as 175 tons.
IT WAS A REAL STRUGGLE TO TURN THE #5322 LOCOMOTIVE (RATED AT 102 TONS) THROUGH 180 DEGREES

BROAD GAUGE TURNTABLE: Records indicate this broad gauge turntable was originally manufactured by the Cornwall Railway, circa 1868 and that it was originally installed at Devonport Royal Dockyard, Plymouth. The Great Western Society recovered the turntable from Devonport Dockyard in 2008 and they are reinstalling it just inside the entrance to the Didcot Railway Centre. The actual turntable/track assembly was yet to be fitted when I took the following photo.

COACH TRAVERSER: The Great Western Society obtained the Traverser in 1975, it was originally installed at the Midlands Railway's Works at Derby in 1897! The Drive Tractor was initially converted from steam to electric drive and it is currently powered by a petrol engine. Coaches are hauled onto the Traverser by a winch and cable system.

ENGINE SHEDS: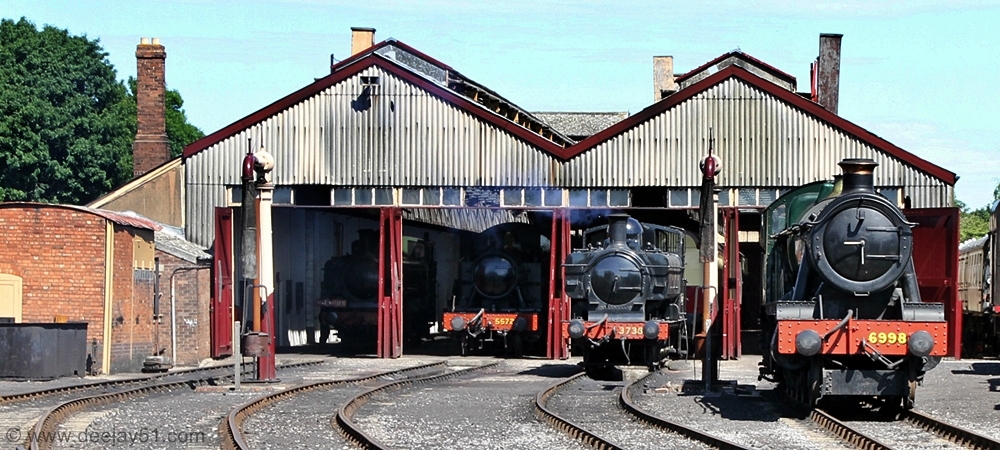 THE 1932 EX BR/GWR LOCOMOTIVE DEPOT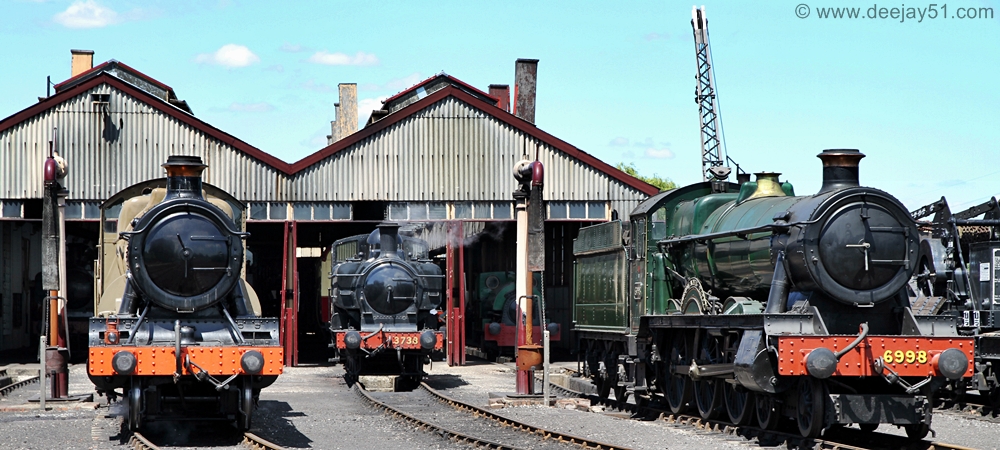 THE 1932 EX BR/GWR LOCOMOTIVE DEPOT, ANOTHER VIEW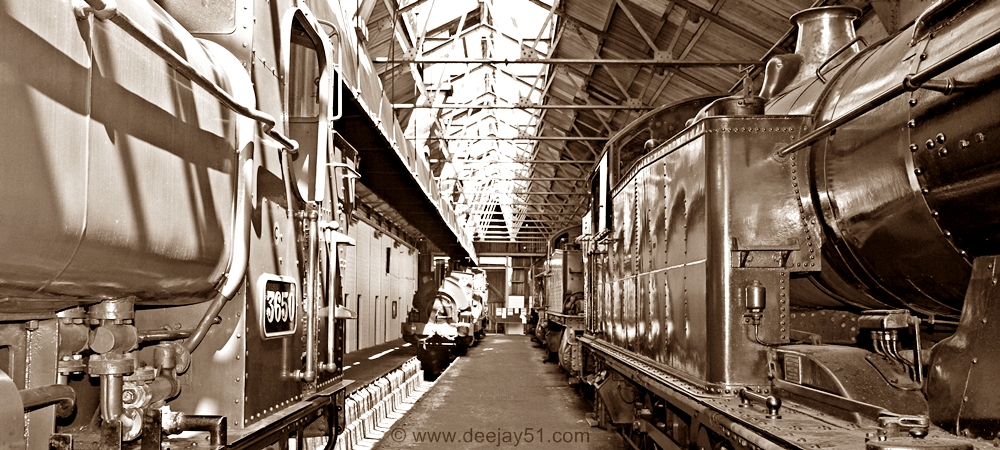 THE 1932 EX BR/GWR LOCOMOTIVE DEPOT INTERIOR, DIGITALLY ALTERED TO SEPIA TONE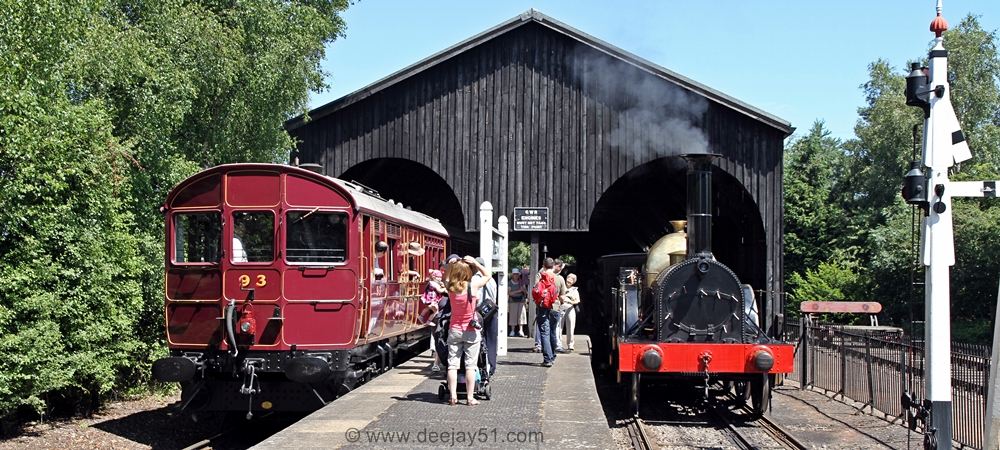 THE TRANSFER SHED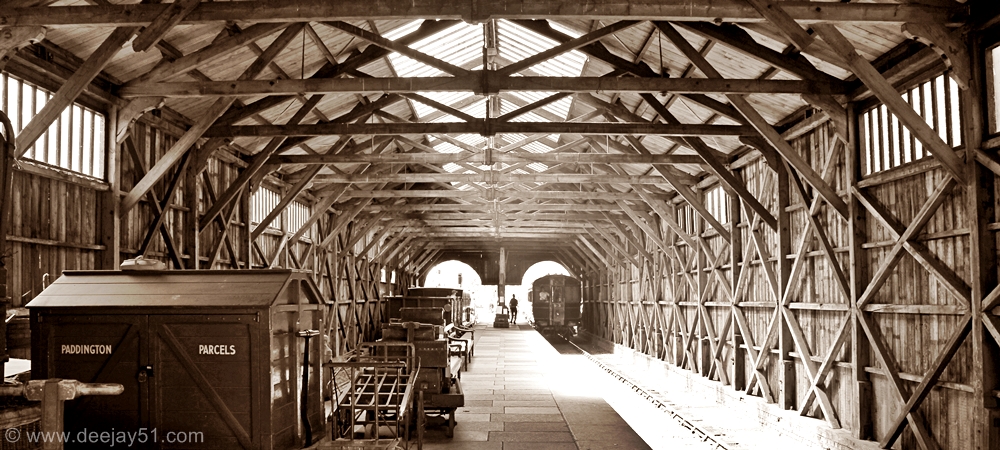 THE TRANSFER SHED INTERIOR, DIGITALLY ALTERED TO SEPIA

THE GWR COAL TOWER: Also known as the 'Coal Stage', the building was originally designed to simplify delivery of coal and water to locomotives. Bulk coal is delivered to the upper building storage facility by rail wagons, the coal is then transferred into wheeled tubs as required which can then be emptied into the tender or bunker of a locomotive below.
| | |
| --- | --- |
| | |
| THE GWR COAL TOWER | UPPER LEVEL COAL STORAGE AND WHEELED TUBS |

THE BONEYARD: An American term, nevertheless it is apt to describe some of the Didcot Railway Centre heavily weathered rolling stock and equipment that may one day be reconditioned.
IT'LL BUFF OUT!
| | |
| --- | --- |
| | |
| OLD BOILER! | HAND CART MAYBE? |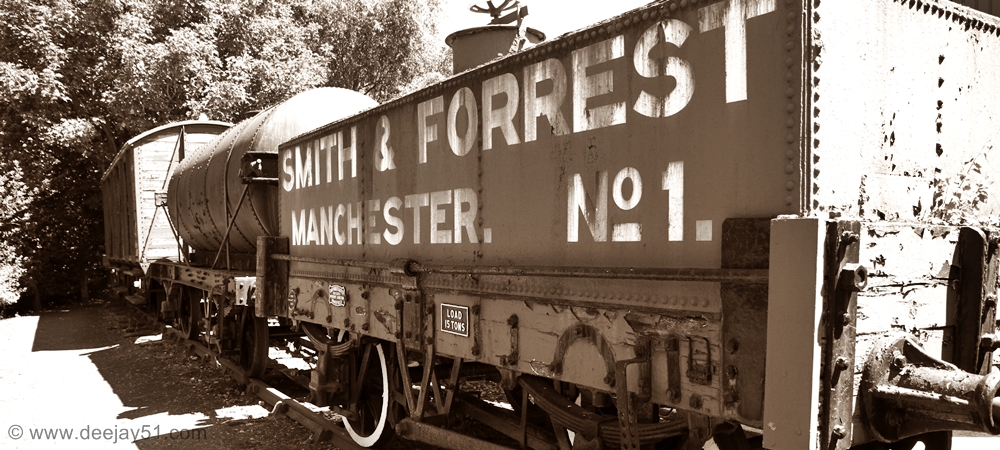 WAGONS AWAITING RECONDITIONING

MISCELLANEOUS ITEMS: Boundary Markers, GWR Signage and other items, including some humorous one's I photographed during my visit to the Didcot Railway Centre.
| | | |
| --- | --- | --- |
| | | |
| 1895, BOUNDARY MARKER | 1932, GWR SIGNAGE | #6203 KING EDWARD II'S LOCOMOTIVE, BROKEN WHEEL SET |
INTERESTING

AMUSING

MASCOTS

MORE RAILWAYS COVERAGE: Please continue my 'Railways coverage' by selecting from the following pages...