THE BELLARINE RAILWAY MUSEUM, VICTORIA: A minor but nevertheless interesting Railway Museum, associated Railway and period Train Stations. Maintained by Volunteers, the Locomotive and Rolling Stock Collection is significant with examples obtained from various States of Australia. The original Railway connected Stations at Geelong, Moolap, Leopold, Drysdale and Queenscliff, Victoria, an overall track distance of approximately 35km. The only remaining 'serviceable railway line' in 2012 links Drysdale and Queenscliff, a nominally 17km stretch of track requiring ongoing maintenance.
The Volunteers have a huge Shed to secure and work on the burgeoning collection, an enormous amount of work is ongoing to return all Locomotives and Rolling Stock to full working order.


STEAM LOCOMOTIVES: The Museum has a good collection of Steam Locomotives, most have been donated and/or obtained in poor condition, requiring a great deal of work to return to service.
GARRETT LOCOMOTIVE:
0-4-2 LOCOMOTIVE:
1916: #2539 LOCOMOTIVE: Manufactured by Vulcan Iron Works, Wilkes Barre, Pennsylvania, USA.
0-6-0 TANK LOCOMOTIVE: Obviously used for 'Thomas Days'.

DIESEL LOCOMOTIVES: The Museum has a few Diesel Engines, they are often used for Special Events to obviate the need and considerable time to prepare a Steam Locomotive.
1962: #1604: DIESEL LOCOMOTIVE: Manufactured by English Electric Australia, Rocklea, Brisbane.
1950: #X 20: DIESEL RAILCAR: Manufactured by English Electric UK.

QUEENSCLIFF RAILWAY STATION YARD: Shunting Locomotives and Track Maintenance Stock are located at the Queenscliff Yard.
1947: VA 1: 0-6-0 DIESEL SHUNTER: Manufactured by Drewry Car, London.
1918: 'POZIERES' 0-6-0 STEAM LOCOMOTIVE AND A 1955 0-6-0 DIESEL SHUNTER: 'Pozieres' was manufactured by Andrew Barclay and Sons. The Diesel Shunter was manufactured by Drewry Car, London.
TRACK MAINTENANCE AND GOODS WAGONS: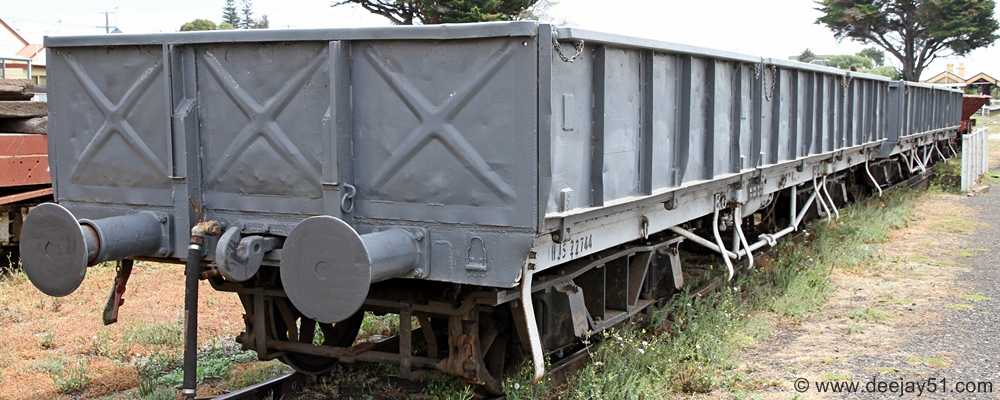 'HJS 22744' AND 'HJS 23048' WAGONS
| | |
| --- | --- |
| | |
| BALLAST WAGONS | TRACK MAINTENANCE EQUIPMENT AND A BOGIE OIL TANK WAGON |

MORE RAILWAYS COVERAGE: Please continue my 'Railways coverage' by selecting from the following pages...