AMELIA EARHART: One of Aviation's greatest mysteries was the disappearance of Amelia Earhart and co-pilot/navigator Fred Noonan during an attempt to fly around the world in a Lockheed Electra 10E in 1937. Over the years I have read many books and news items suggesting various answers to their baffling disappearance, my first tangible contact with anything physically related to Amelia was during a visit to the San Diego Air and Space Museum, albeit mannequin, replica and display items, subsequently I visited the Burry Port Harbour, Wales to view the monument and harbour buoy commemorating her arrival there as part of her first Trans Atlantic crossing.

SAN DIEGO AIR AND SPACE MUSEUM: I visited the San Diego Air and Space Museum in 2010 and I was delighted to view a display commemorating Amelia, a mannequin was placed beside a replica of a Lockheed Vega 5B, the actual aircraft used in the Hollywood Motion Picture, 'AMELIA'.
AMELIA EARHART

MANNEQUIN OF AMELIA WITH DEEJAY51

MOVIE POSTER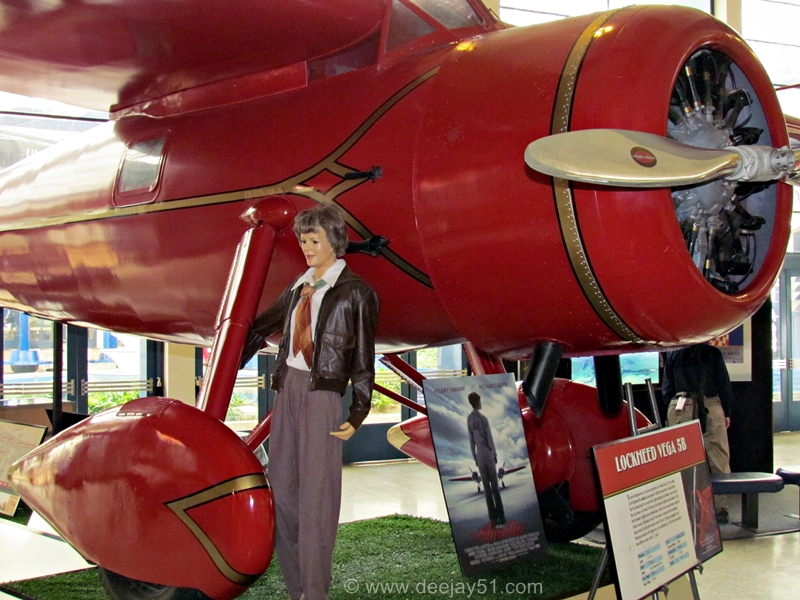 A MANNEQUIN OF AMELIA AND THE LOCKHEED VEGA 5B 'REPLICA' AS USED IN THE HOLLYWOOD FILM 'AMELIA'
THE LOCKHEED VEGA 5B 'REPLICA' AND DISPLAYS
THE LOCKHEED VEGA 5B 'REPLICA' ENGINE

BURRY PORT, WALES: I visited Burry Port, Wales in June 2011, to photograph items celebrating Amelia becoming the first woman to fly across the Atlantic Ocean on the 18th June, 1928. It was not a solo flight, Amelia had two pilots, Wilmer (Bill) Stultz and Louis 'Slim' Gordon, she held the designation of 'Commander' on the flight. The aircraft was a Tri Motor named 'Friendship'. I was delighted to locate a memorial commemorating the landing and with the help of a local Welsh lady I was directed to a nearby Harbour Buoy, the actual Buoy that Amelia's aircraft was moored to in the harbour.
THE MEMORIAL AND HARBOUR BUOY:
| | |
| --- | --- |
| | |
| AMELIA EARHART MONUMENT & DEEJAY51, BURRY PORT BEHIND | CLOSE UP OF THE MONUMENT PLAQUE: 'ENGLISH TEXT' |
| | |
| --- | --- |
| | |
| THE HARBOUR BUOY, BURRY PORT MARINA BEHIND | CLOSE UP OF THE HARBOUR BUOY PLAQUE |
THE HARBOUR AND ENVIRONS:

THE BURRY PORT MARINA WITH THE MONUMENT ON THE LHS

THE BURRY PORT FORESHORE AND LIGHTHOUSE

MY AMELIA EARHART STORY CONTINUES: Please continue my 'Amelia Earhart story' by selecting from the following pages...

MORE MYSTERIES: For more 'Mysteries', please continue by selecting from the following pages...