The 'Tasman Revival Feature' included Group M and O Racing Cars. Upwards of twenty Brabham cars of various configurations were entered, competing against equally famous names including Cooper Climax, Ferrari, McLaren, Lotus and Rennmax. I was totally distracted by the gorgeous Lotus 49/R8 'Gold Leaf Team Lotus' car piloted by John Smith, hence I've started my coverage of the 'Tasman Cars' with this beautiful car...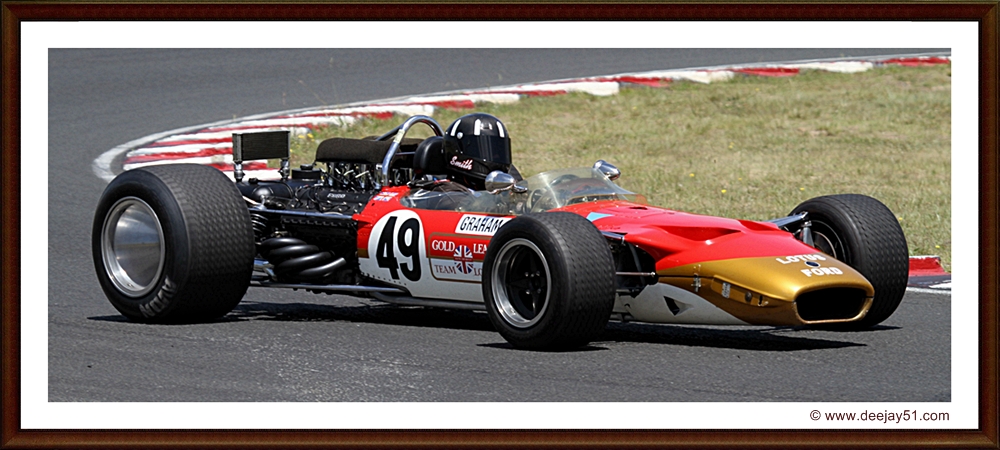 #49: 1969 LOTUS 49/R8, DRIVER: JOHN SMITH

PIT IMAGES: I have selected three cars that highlight the quality of machinery that competed in the 'Tasman Revival Feature'.
1969: #49: LOTUS 49/R8 (Chassis No. 8). The Lotus 49 first appeared in 1967 and heralded the first appearance of the Cosworth DFV Formula 1 race engine. The car's first Formula 1 entry was at the Dutch Grand Prix at Zandvoort 1967, Graham Hill put his car on pole and Jim Clark won the race! The car's first Tasman Series appearance was in 1969, Graham Hill campaigned the car in Australia and New Zealand. Subsequently the car was used by Team Lotus in European Grand Prix and it was also entered in the South African Championship, driven by Dave Charlton.
Some of the many results the car achieved include 11.01.69: Levin NZ - Graham Hill (3rd), 18.01.69: Christchurch NZ - Graham Hill (2nd), 25.01.69: Invercargill NZ - Graham Hill (2nd), 02.02.69: Lakeside Qld. - Graham Hill (4th), 09.02.69: Warwick Farm NSW - Graham Hill (11th), 16.02.69 Sandown Vic. - Graham Hill (6th), 08.06.69: Monaco GP - Richard Attwood (4th), 19.07.69: British GP - Graham Hill (7th).
The Cosworth 'DFV' was produced by Cosworth for Formula 1. The 'DFV' initials highlighted the history of the engine, specifically the 'D' stood for 'double' as the engine was a V8 developed from the earlier FVA (four cylinder type A engine), the 'FV' stood for 'four valve'. Ford sponsored the development of the engine for Colin Chapman's Team Lotus. The engine was a V8 of 2,992.98cc capacity, initially producing over 4000bhp at 9,000rpm. Engine development continued and by 1983 over 520bhp at 11,000rpm was achieved.
| | |
| --- | --- |
| | |
| 'AS ADVERTISED' | |
COSWORTH DFV DOHC V8
1967: #1: BRABHAM BT 24-1 This was the Repco Brabham Formula 1 car driven by Sir Jack Brabham in the 1967 Grand Prix season. In 1967 Sir Jack won his second Formula 1 Constructor's Championship and came second in the Driver's Championship to New Zealander Denny Hulme by a narrow margin. The BT24-1 is the most successful Brabham F1 car ever built, winning a total of forty one World Championship points in 1967. BT24-1 is considered the most original of it's type in raceway condition, the chassis is completely original. It still retains the original Repco engine.
The engine is a Repco Brabham 3,000cc SOHC V8 with Lucas mechanical fuel injection. It developed 330bhp at 8,000rpm driving through a five speed Hewland DG300 gearbox.
BRABHAM BT 24-1, SYMMETRY IN THE OVERALL DESIGN
1969: #36: BRABHAM BT 30-6 This is Chris Farrell's BT 30-6, ex Alan Rollinson 'Irish Racing Cars'. #27: Brabham BT 30 has a similar heritage.

'TASMAN REVIVAL FEATURE' RACING: Competition, certainly however the #49: Lotus 49/R8 driven by John Smith was a clear winner, the car looked fantastic on and off track.

#49: 1968 LOTUS 49/R8 vs #4: 1968 FERRARI DINO 246/T vs #2: 1967 BRABHAM BT 23B
| | |
| --- | --- |
| | |
| #1: 1967 BRABHAM BT 24 | #4: 1968 FERRARI DINO 246/T |
| | |
| --- | --- |
| | |
| #12: 1968 BRM P126 vs #63: 1969 ELFIN 600B | #28: 1968 BRABHAM BT 23C |
| | |
| --- | --- |
| | |
| #36: 1969 BRABHAM BT 30-6 | #38: 1966 BRABHAM BT 16 vs #64: 1968 ELFIN 600 |

'TASMAN REVIVAL FEATURE' PODIUM:
JOHN SMITH WINNER OF THE 'TASMAN REVIVAL FEATURE' AND SIR JACK

#49: JOHN SMITH AND THE WINNER'S LAURELS

MORE TASMAN REVIVAL 2010: Please continue my 'Tasman Revival' coverage by selecting from the following pages...