Some location! At the bottom of Bathurst's Conrod Straight, the National Motor Racing Museum has near perfect exhibits of some of Australia's most famous modern era Motorcycles and Cars. This page is devoted exclusively to the Motorcycle Exhibits, Car Exhibits link here.
Most of the machines I ever remember Ron Toombs riding are on display and a glass enclosed display protects some of Gregg Hansford's mainly Kawasaki exhibits, trophies etc.
RON TOOMBS - EXHIBITS: Ron, a multi Australian Champion Road Racer would be very proud of the exhibits which are located prominently in the Motorcycle Section.
THE 'MARK 1' HENDERSON MATCHLESS UTILISED A MATCHLESS G50 ENGINE IN A NORTON FRAME. RON WON FIVE CONSECUTIVE 500cc AND UNLIMITED VICTORIES AT BATHURST ON THIS MACHINE FROM 1966 TO 1968, RON WAS REGULARLY TIMED AT 220kmh DOWN CONROD STRAIGHT. THE MOTORCYCLE WAS RETIRED IN 1969 IN FAVOUR OF THE MACHINE DEPICTED BELOW.
SYDNEY ENGINEER, TONY HENDERSON DEVELOPED THIS 'MARK 2' HENDERSON MATCHLESS OVER MANY YEARS FOR RON, STARTING WITH A STANDARD 500cc OHC MATCHLESS ENGINE PRODUCING 50BHP TONY MANUFACTURED HIS OWN FOUR VALVE DOHC CYLINDER HEAD, TITANIUM CONROD AND SPECIAL CRANKSHAFT, LIFTING THE POWER OUTPUT TO 60BHP. RON TOOMBS WAS CLOCKED AT 250kmh DOWN CONROD STRAIGHT ON THIS MACHINE.

GREGG HANSFORD - EXHIBITS: What do you say, I had no idea Gregg's Kawasaki's would be at Bathurst and the deserved additional protection offered to them by the glass enclosure only enhances this precious exhibit of a great riders achievements.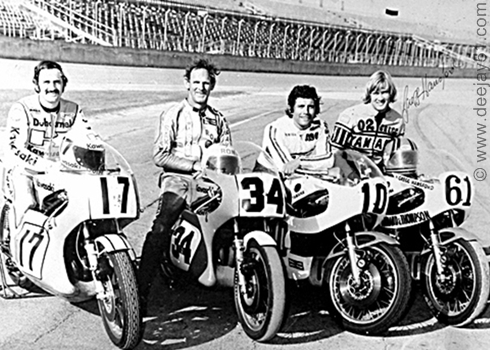 FROM LEFT TO RIGHT, YVON DU HAMEL, RON TOOMBS, GIACOMO AGOSTINI AND GREGG HANSFORD AT THE DAYTONA 200 MILE RACE IN 1974. IN THE RACE RON WAS DOING WELL, STILL RECOVERING FROM A BROKEN LEG HE WAS HOLDING 12th PLACE UNTIL ON THE 27th LAP THE CHAIN BROKE, GREGG RIDING ONE OF THE THEN NEW TZ700 YAMAHA'S WAS HINDERED BY IGNITION GREMLINS FINISHING IN 33rd PLACE. AGO, I CLEARLY REMEMBER THE MOTORCYCLING PRESS OF THE DAY PROCLAIMING THAT 'HE CAME AS ADVERTISED' HAVING BEEN A MULTI WORLD CHAMPION FOR MV AGUSTA, THIS WAS HIS FIRST RACE FOR YAMAHA ALSO ON A NEW TWO STROKE TZ700, HE WON!!
GREEN MEANIES, LEATHERS, PICTURES, TROPHIES, EVEN A MAZDA RX7, YOU MUST VISIT THIS EXHIBITION OF GREGG'S ACHIEVEMENTS

WAYNE GARDNER - EXHIBITS: WG, World GP Champion, Six Hour Winner, a couple of motorcycles linked to pivotal moments in WG's career reside at the Museum....
1980: THE CB1100R, DEVELOPED BY HONDA WITH THE ASSISTANCE OF DENNIS NEILL AND ENTERED BY MENTOR MOTORCYCLES, TUNED BY PETER MOLLOY AND RIDDEN BY WAYNE GARDNER AND ANDREW (AJ) JOHNSON WON THE 1980 CASTROL 6 HOUR, I WAS THERE AND I WILL NEVER FORGET THE CALIBRE OF RIDING BY THIS TEAM AND MANY OTHERS ON THAT VERY WET DAY AT AMAROO PARK, JUST TREMENDOUS MEMORIES.
1987: THE NSR500 AS RIDDEN BY WAYNE GARDNER TO THE 1987 WORLD 500cc CHAMPIONSHIP. WAYNE WON SEVEN RACES IN HIS CHAMPIONSHIP WINNING YEAR, WAYNE WAS THE FIRST AUSTRALIAN TO WIN THE PREMIER CLASS CHAMPIONSHIP OF MOTORCYCLE ROAD RACING.

OTHER EXHIBITS: Australian Superbike and Supersport winning machinery is very well represented...
| | | |
| --- | --- | --- |
| | | |
| A COLLECTION OF AUSSIE SUPERBIKE AND SUPERSPORT WINNERS | J.BROOKES: 2005 CBR1000RR | J. BROOKES: 2005 CBR600RR |
| | | | |
| --- | --- | --- | --- |
| | | | |
| S.GILES: 2000 GSXR750 | S.GILES: 2001 GSXR1000 | S.GILES: 2002 GSXR1000 | 2003: FOR REECE BANCELL |

MOTORCYCLE SHOWS AND MOTORCYCLE MUSEUMS: Please continue viewing my records of Motorcycle Shows and Motorcycle Museums I have visited by selecting from the following...