THE BEAULIEU NATIONAL MOTORCYCLE MUSEUM: Located on Lord Montagu's Beaulieu Estate, the Motorcycle displays form part of the overall Beaulieu Museum. The Museum hosts a wide range of mainly British Motorcycles.

1912: NORTON BS: The first production models of the Norton BS were manufactured in 1912 and two factory options were marketed, the BS (Brooklands Special) and the BRS (Brooklands Road Special) they were sold with a guarantee that they could lap the Brooklands Track at 70mph (BS) and 65mph (BRS). The Museum exhibit was known as Old Miracle. The motorcycle was used by many different riders to set 112 solo and sidecar British and International records between 1912~1920. The motorcycle was manufactured by Norton Motors Ltd, Bracebridge Street, Birmingham, it was powered by a 490cc single cylinder engine and had a maximum speed of 70mph.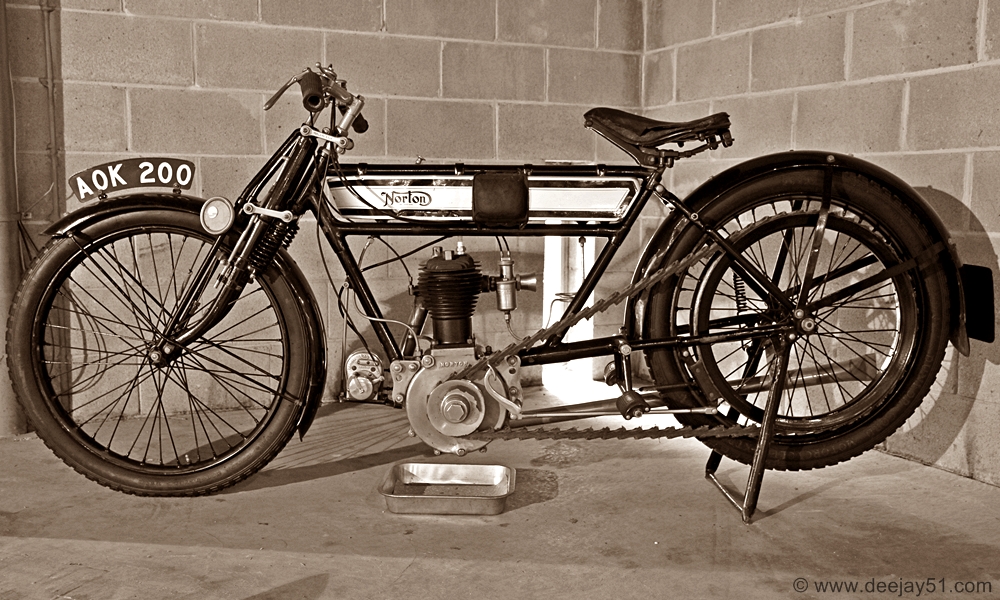 1913: ZENITH GRADUA: Zenith commenced business in 1904 and by 1909 they were widely known for their development of the 'Gradua Gear', a system allowing in motion control of the motorcycles overall gear ratio. Most Zeniths were powered by JAP engines, this particular motorcycle was powered by a water cooled 495cc Green engine which produced 3.5hp. The motorcycle had a maximum speed of 100kph.

1919: ROYAL ENFIELD 'EXPERIMENTAL': Developed by Royal Enfield in 1919, this motorcycle featured a horizontally split crankcase, hand starter, spring seat (the first of it's type), even a substantial oil sump to eliminate the need for an oil pump. Sadly it was hidden away in the Royal Enfield 'Experimental Department' for decades, deemed too expensive for commercial sale. The motorcycle was powered by a four cylinder in-line 846cc engine.

1928: RUDGE-WHITWORTH: Graham Walker, the father of Murray Walker, used this motorcycle to win the 1928 Ulster Grand Prix at an average speed of 80.078mph. The technical features of the motorcycle were advanced for their day and included a four valve cylinder head, four speed gearbox and brakes! The motorcycle was manufactured by Rudge-Whitworth Ltd., Coventry, it was powered by a 499cc single cylinder engine and had a maximum speed of 105mph.

1957: BMW R60 AND STEIB SIDECAR: Considered to be the most desirable combination in the mid 1950's, the smooth and reliable shaft driven BMW Boxer and the Steib sidecar which incorporated a robust chassis and a sprung trailing arm suspension system offered an excellent Sidecar package. The motorcycle was manufactured by BMW Munich and the Sidecar was manufactured by Spezialfabrik Fuer Seitenwagen, Nuremburg. The motorcycle was powered by a 490cc horizontally opposed engine and the combination had a maximum speed of 70mph.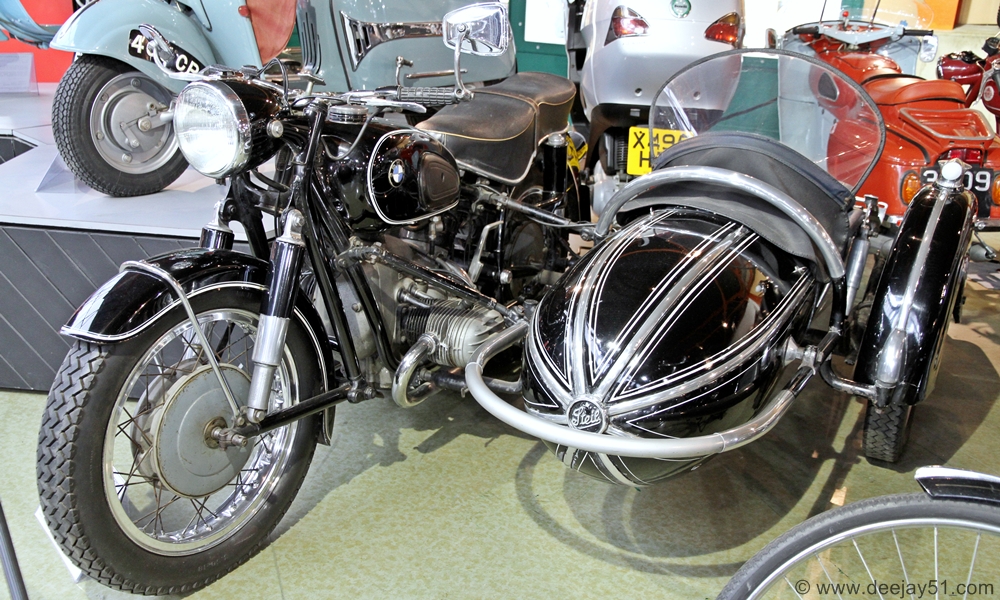 1961: HONDA RC162: The golden years for Honda, this motorcycle was typical of the amazing technology Honda used to developed high revving, multi cylinder motorcycles to dominate World Championship Road Racing in the 1960's. Honda ensured the riders were well qualified to race their machinery, with names like Hailwood, Redman, Phillis and McIntyre they won twenty four (24) World Manufacturer's Championships in the 50, 125, 250, 350 and 500cc classes throughout the years 1961~1967. This motorcycle was manufactured by Honda Motor Co. Ltd, Tokyo, it was powered by a 249cc four cylinder engine and it had a maximum speed of 115mph.

1972: KAWASAKI H2R FACTORY - 'RANDY HALL SPECIAL': This H2R was ridden by some of the most famous Kawasaki riders of the era, including Gary Nixon, Art Baumann, Hurley Wilvert and Gregg Hansford. The motorcycle was powered by a 750cc two stroke triple, factory tuned engine with wide transfer ports, the approximate power output was 110bhp.

MORE MOTORCYCLE SHOWS AND MOTORCYCLE MUSEUMS: Please continue viewing my records of Motorcycle Shows and Motorcycle Museums I have visited by selecting from the following...