MOPAR SUNDAY, WILLOWBANK, 2012: The 75th Anniversary of MOPAR and the 10th Anniversary 'MOPAR Sunday', (the original dedicated MOPAR Drag Racing and Show and Shine event in Australia). The event also included Trade Displays and Dyno Testing.


#PRO STOCK/401: MOPAR DRAG CAR - LEE BEKTASH: The 'main player' celebrating the MOPAR Anniversaries, PRO/401 was fitted with a fresh 398ci V8, Rick Walters 'billet head' hemi engine direct from the USA for the occasion. The car's transmission and shifter were out all morning as the team worked to prepare the car, the goal was to break into the six second bracket.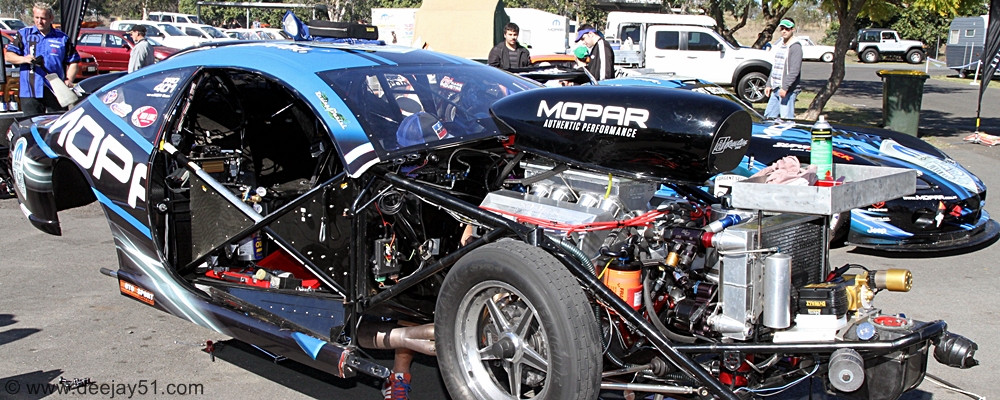 #PRO STOCK/401:
| | |
| --- | --- |
| | |
| FRESH 'BILLET HEAD' 398ci V8 | REAR SUSPENSION AND BRAKE ASSEMBLY |
THE LIEBERT TRANSMISSION AND SELECTOR MECHANISM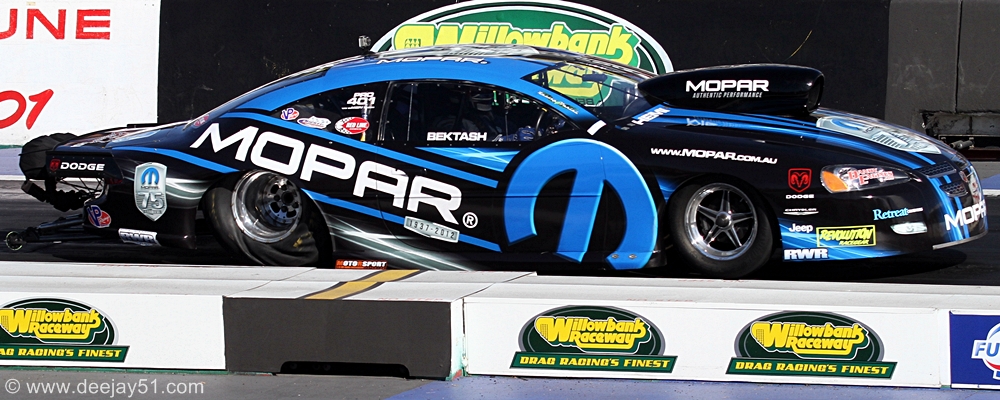 #PRO STOCK/401: LEE BEKTASH

#VGAS/#: KNUCKLE DUSTER: Polar opposite to the MOPAR machinery, the Vintage Gas 'Knuckle Duster' was also a fan favourite.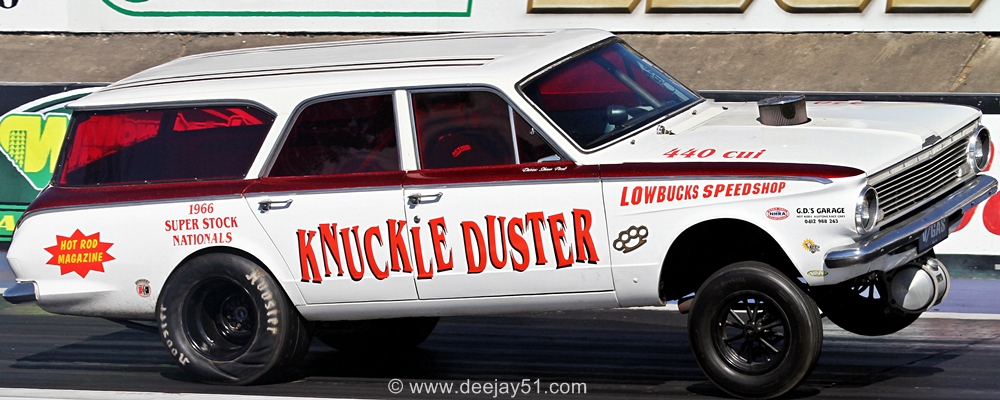 #VGAS/#: KNUCKLE DUSTER COMING OFF THE LINE

#FC/2245: THE CROCODILE - CHRISTINE STEFFENS: The Croc was 'not' smiling after an initial run due to both Christine's drag chutes failing to deploy, husband Ricky took 'full responsibility' for the chute issues. The result for Christine was a wild ride into the gravel at the end of the strip. The Croc survived with a cracked screen, dust and dirt all over the motor and some body damage, not forgetting Christine's beaming smile as she removed her helmet.
THE CROCODILE'S MOTOR WAS BLASTED TO CLEAR AWAY ALL THE DUST
| | |
| --- | --- |
| | |
| THE TROUBLESOME CHUTES | CHRISTINE, SEEMINGLY UNFLUSTERED BY THE CHUTES FAILURE |
| | |
| --- | --- |
| | |
| A SUCCESSFUL BURNOUT FOLLOWING THE CLEAN UP | CHECKING A MINOR LIQUID LEAK AFTER THE BURNOUT |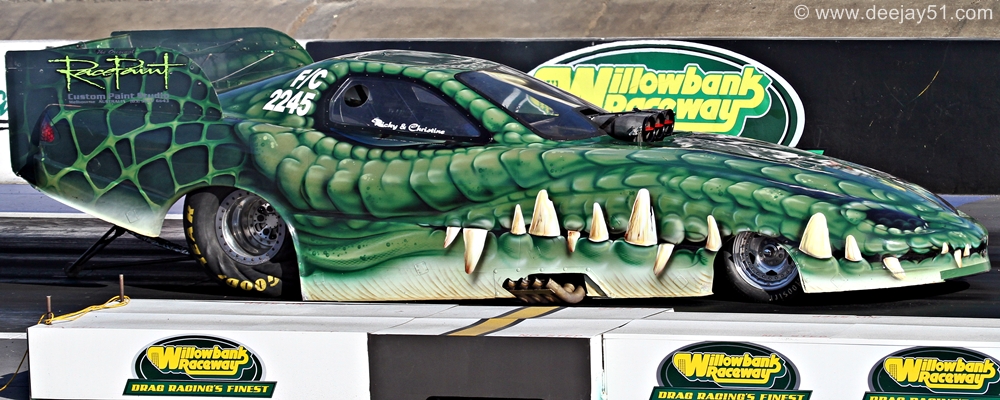 A SUCCESSFUL LAUNCH WITNESSED AN EARLY SHUTDOWN AND THIS TIME THE CHUTES WORKED



MORE DRAG RACING COVERAGE: Please continue viewing my records of Drag Racing, by selecting from the following...