THE Le Minz TWENTY FOUR HOUR SCOOTERTHON: Continued...

PIT STOP IMAGES: A selection of refuelling and repair techniques:
#2: REPAIRS DURING THE DAY AND AN EVER HOPEFUL SIGN RESTS ON THE SCOOTER FOLLOWING AN ENGINE SEIZURE DURING THE NIGHT STAGE
| | |
| --- | --- |
| | |
| #3: REFUEL AND A RIDER'S BOARD MEETING | #10: ENGINE RESPONSE ISSUES AND REFUEL |
#4: THE 'MATMAC MEDIA' TEAM, REFUELLING AND MORE OIL
#17: THE 'ONE STOP SCOOTER SHOP' TEAM, THEY HAD FEW ISSUES, WHEN THIS SCOOTER WAS ON TRACK IT WAS A PROVERBIAL JET!
#25: THE 'IMR' TEAM, OFF TRACK EXCURSIONS DAMAGED BOTH SIDES OF THE SCOOTER, AIRBOX AND EXHAUST CLAMP REPAIRS WERE REQUIRED

'REV UP' SIGNS: The obligatory 'rev up' signs...

THE WORLD RECORD WITH TEN MINUTES TO GO!: With nominally ten minutes to go before the twenty four hour mark, 'Brownie' made a quick stop to claim the record and the 'superman cape', he then re-entered the event to extend the new distance record.
| | |
| --- | --- |
| | |
| A QUICK STOP FOR THE CAPE! | SUPERMAN! |

THE FINISH LINE:

#1: 'BROWNIE' CROSSING THE FINISH LINE AFTER A VICTORY LAP, ADORNED WITH A SUPERMAN CAPE AND CARRYING THE AUSTRALIAN FLAG

SOLO FOR TWENTY FOUR HOURS: 'Brownie', twenty four hours with that helmet on, ouch! Exhaustion soon changed to exhilaration...

VICTORY CELEBRATIONS: The stock, modified and critically, the 'solo' class winners:
| | |
| --- | --- |
| | |
| #: THE STOCK CLASS OUTRIGHT WINNERS | #: THE MODIFIED CLASS OUTRIGHT WINNERS |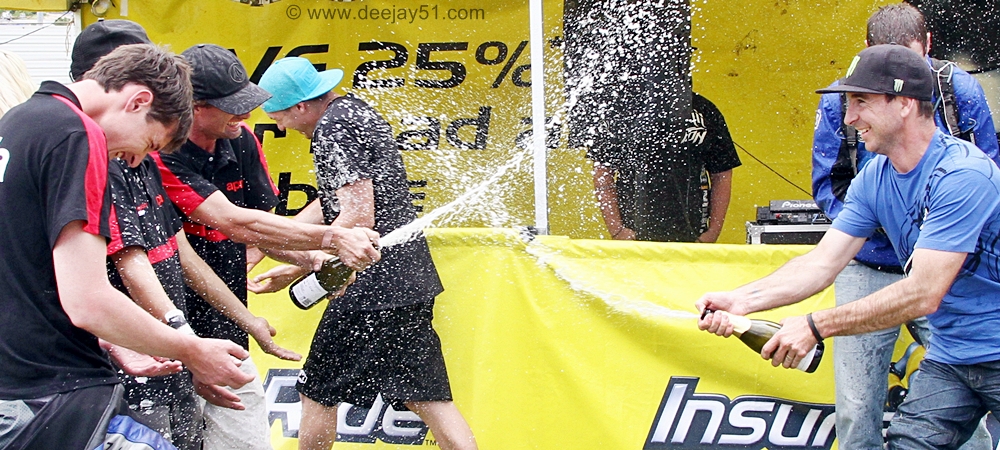 THE PREDICTABLE CHAMPAGNE FIGHT
WORLD RECORD: #1: 'BROWNIE', FIRST HE COPPED THE CHAMPAGNE THEN HE WAS DUMPED IN THE 'IMR' POOL

#1: MARK 'BROWNIE' BROWN: On the 18th December 2011, Mark reclaimed the World and Guinness Book of Records entry, previously held by Jake Dolan, (1,178.76km in twenty four hours), raising the record to 1,189.685 kilometres in twenty four hours. I took this photo as 'Brownie' stopped at the finish line after twenty four hours of effectively non-stop riding!

MORE AUSTRALIAN ROAD RACING COVERAGE: Please continue my 'Australian Road Racing coverage' by selecting from the following pages...