1979: THE 'CBX1000' SIX CYLINDER SUPER SPORTS: The CBX1000, staggering, Honda took the magic of their RC166 Grand Prix racer and created the road going equivalent at a time when bigger was better! The engine was a six cylinder transverse type of 1,047cc capacity with a DOHC head and four valves per cylinder, producing 105PS at 9,000rpm. Additional features included dual front and single rear disc brakes, an oil cooler and a truly magnificent exhaust sound.
NB: Due to the significance of this motorcycle I have included 'CBX1000' imagery from the Honda Hall, the Isle of Man, the VJMC Australian rally and my personal CBX1000C to depict the CBX1000Z two original factory colour options, the CBX1000B and the CBX1000C.

HONDA HALL EXHIBIT: The Honda Hall exhibit is a Silver CBX1000Z. The motorcycle was also available in Candy Apple Red. The 'Z' had questionable rear suspension, non ventilated disc brake rotors and an unpolished cam cover, however the engine produced the most power and it is considered the most collectable of the series.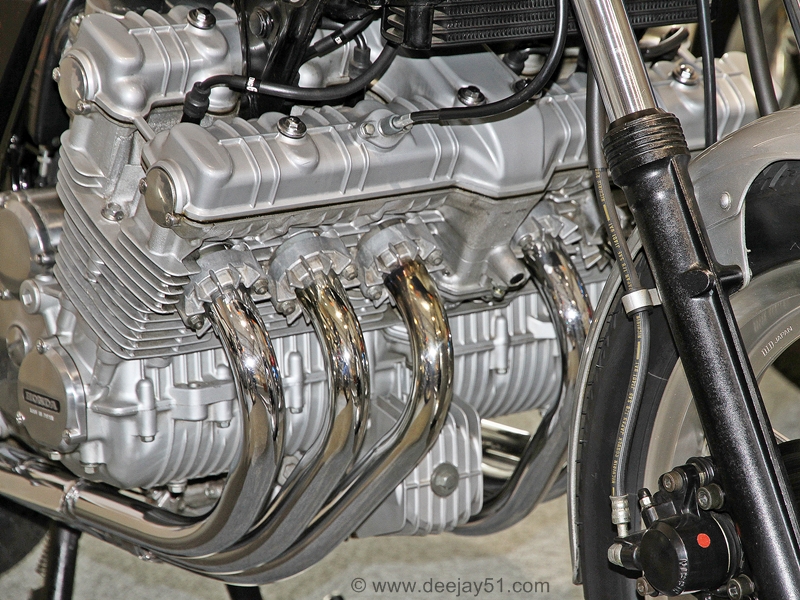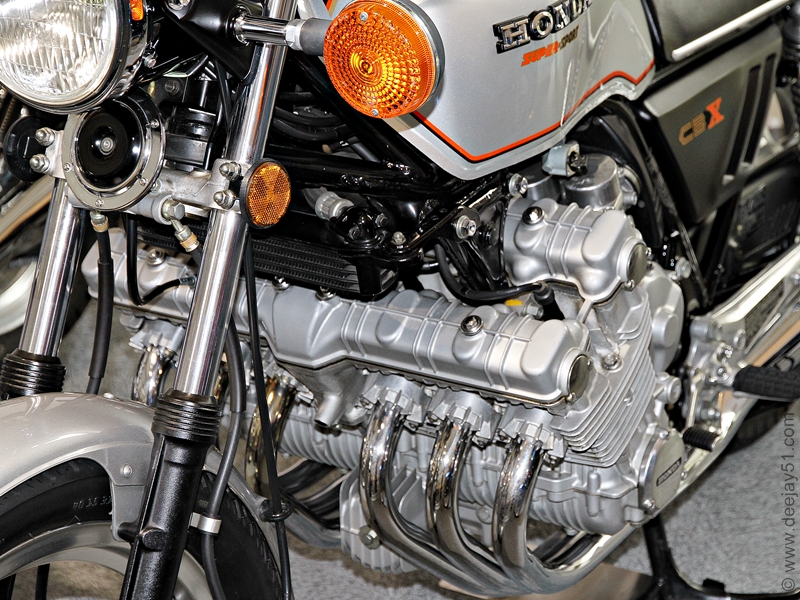 VJMC AUSTRALIA EXHIBITS: These candy apple red CBX1000Z's depict the very popular colour of the original 'Z' in candy apple red. The motorcycle depicted on the left has a non standard exhaust system and the motorcycle on the right has a non standard polished cam cover and plug caps.

ISLE OF MAN EXHIBIT: This privately owned CBX1000B was parked at the Isle of Man Great Laxey Wheel. This was the second generation CBX, it included some significant changes which changed the focus of the CBX from a sports motorcycle to a sports tourer. This particular motorcycle has a non standard six into six exhaust system and is sans the optional pannier system.
Changes to the CBX1000B included a slightly detuned motor, black motor finish with polished cam cover, reversed comstar wheels with black infill (made them easier to clean), dual ventilated front disc brake rotors, larger front mudguard, sports touring fairing, front crash bars, chrome plated chain guard, twin horns, optional panniers and critically a pro-link air suspension system on the rear incorporating a substantial alloy swing arm. The sports touring fairing included small map pockets and genuine accessories were available including a voltmeter and an oil pressure gauge.

MY CBX1000C: Stock except for a front fork stay and non fitment of the optional pannier system, my CBX1000C was a joy to own, sadly I made a huge mistake selling this motorcycle and I might add my BMW R60/5, but that's another story.
Changes to the CBX1000C compared to the 'B' were basically restricted to the pearl white paint finish. This was the last CBX1000 model released by Honda, however the motorcycle has gained far greater acceptance and the aftermarket equipment, specials, turbo charged versions and the occasional Forgotten Era racing versions keep this marvellous motorcycle alive.

HONDA'S PRODUCTION BIKES: For more of my coverage of Honda's Production Bikes please select from the following pages: