So many Magazine Journalists and 'knowledgeable' types in the Motorcycle Trade have stated their views on the Best Motorcycles of all time, I of course have my own opinions. My choices are generally from the Modern Era, 'road registerable' only, the choices being governed by my personal experiences, the sales success of the particular machine and the popularity of the machine, over the longer term.
I also include my 'Bloopers List', this is very much based on my personal experiences and the known reliability issues with the Motorcycle. Heh, its my website!!!!
THE 'BEST' MOTORCYCLES: Limited to my 'top ten'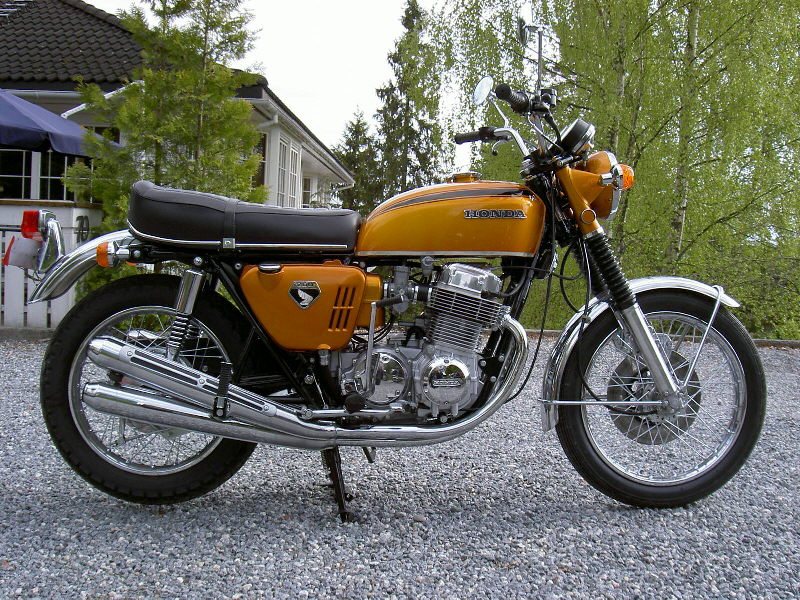 NUMBER 1:
No contest, the CB750 started the modern era, 4 Cylinders, Electric Start, Disc Brake and very reliable! [web pic].
THE 'BLOOPERS' LIST: Hmmm, this is really easy for me and I'm NOT going to make Triumph (Meriden only) fans very happy!!
TRIUMPH TRIDENT T150V: My Trident's reliability or lack thereof included stretched and failed Triplex Primary Chains (side plate failures), soaked 'Borg and Beck' Dry Plate Clutch (wet all the time), appalling Amal Carbies, sheared Choke Cable nipple (centre Carbie of course), blown Oil Line, weeping Head Gasket etc etc. So when did all this happen and continue to happen, within the FIRST DAY of ownership and continued until I traded the thing on a BMW R60/5.
The Trident could not be ridden above 4500rpm for many months due to Clutch Slippage and the Main Triumph Dealer in New South Wales had the Primary Case off countless times, the Rod Actuator seal replaced, the 'secret fix' oil return hole drilled in the inner Engine Case, all to no avail...... Did I mention 'Prince of Darkness' Lucas Electrics!!!
YAMAHA TX750 DOHC: The TX750 (original model) had a catastrophic unveiling in the Castrol 6 Hour Endurance Race, most of Australia's Yamaha linked 'A' Grade Riders were entered on the bikes and the Bikes all blew up, I'm half deaf and a couple blew up on Bitupave Hill in front of me, it was not a pleasant sound!
Apparently the oil quantity, or lack of it, was the culprit. I understand Yamaha increased the Sump capacity and added an Oil Cooler to subsequent models, problem fixed?, apparently.....