CASTROL SIX HOUR - 1977: Hailwood, the name said it all, the 1977 race had the greatest of them all entered at Amaroo Park. To me Mike's participation overshadowed everything else. There was more however, Helmut Dahne entered again teamed with Tony Hatton on a Beemer, Joe Eastmure and Ken Blake likewise teamed together on a BMW, Team Avon split their forces and Alan Hales entered a 650cc machine.....

RACE DAY: The Le Mans start was uneventful, Jim Budd easily won the obligatory sprint across the track and charged up Bitupave Hill, clearly ahead!
THE LE MANS START, #2 JIM BUDD'S KAWASAKI Z1B WAS PURPOSEFULLY 'AIMED' AT BITUPAVE HILL AND HE 'GOT THE HOLE SHOT'

RACE DAY HIGHLIGHT 1 - HAILWOOD!!: A massive draw card, Mike teamed with Jim Scraysbrook on a Ducati 750SS. Mike did not start the race, wisely avoiding the Le Mans start 'run', due to an ankle injury sustained in car racing! When he 'did' take to the circuit there was a huge roar from Entrants and Spectators alike.
Stepping back to practice day for a moment, I treasure having met Mike in the pits, he very obligingly signed Ted McCauley's 'Hailwood' Book and my Protar Honda 250/6 Model. Mike was so calm and unflustered. It took me thirty (30) years to meet another rider that reminded me of his demeanour, in fact two people, Messrs Jim Redman and Luigi Taveri at the Isle of Man Centenary TT of 2007!
The amazing part of the Hailwood/Scraysbrook entry was their finishing place, SIXTH (6th) outright on 350 laps, just six laps behind the winning BMW!!
MIKE IN TRAFFIC

MIKE AND JIM - CONTRASTING STYLES

RACE DAY HIGHLIGHT 2 - TEAM AVON: I focussed a great deal of attention on the Team Avon bikes, I could not believe the 'team' would split their two winning riders from 1976. Unfortunately for Roger Heyes, Garry Thomas dropped the motorcycle in a 'rumoured on track altercation' with Graeme Crosby, Heyes recovered the damaged motorcycle and repairs ensued, #1 returned to the race but ultimately an engine misfire forced a retirement.
The Jim Budd/Neil Chivas #2 machine performed faultlessly all race, however a certain BMW had an ace to play regarding fuel consumption!
| | | |
| --- | --- | --- |
| | | |
| ROGER HEYES/GARRY THOMAS: KAWASAKI Z1B 900 | HEYES RECOVERING #1 | CLUTCH SIDE DAMAGE |
| | |
| --- | --- |
| | |
| JIM BUDD/NEIL CHIVAS: KAWASAKI Z1B 900 | #2: JIM BUDD 'ALONGSIDE' TEAM MATE #1: ROGER HEYES |

JOE EASTMURE AND KEN BLAKE: BMW R100S

TONY HATTON AND HELMUT DAHNE: BMW R100S
| | | |
| --- | --- | --- |
| | | |
| HATTON/DAHNE: BMW R100S | CROSBY/KNIGHT: KAWASAKI 1000 | WARRIAN/BOULDEN: DUCATI 900SS |

THE CHEQUERED: Finally BMW were 'allowed' a win and the R100S had a fairing, woohoo! Ken Blake and Joe Eastmure teamed together and took a BMW R100S (Bike No.3 AGAIN) to the chequered, covering 356 laps. Jim Budd/Neil Chivas (Bike No.2) claimed second on a Kawasaki Z1B 900, with 355 laps and third place went amazingly to a Z650! Kawasaki piloted by Alan Hales and Dave Burgess with 353 laps covered.
Analysis of the results clearly indicates the 'fuel stops' were the ace in the pack for BMW. Blake and Eastmure were able to achieve just over two hours from a tank in contrast to early rumours about excessive fuel consumption from the R100S. Having said that Joe and Ken were very consistent all day without a hint of machine trouble.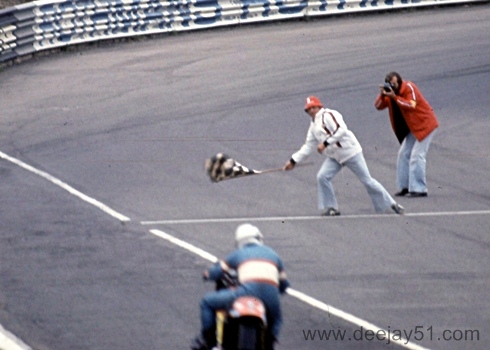 SMOKIN' JOE GREETS THE CHEQUER, A FLAT TWIN BEEMER SHAFTIE SHUT DOWN THE UJM4'S, WOW!!!
| | |
| --- | --- |
| | |
| KENNY AND JOE, A TREMENDOUS RESULT | CRIKEY, DON WILSON 'SMILING' WITH KENNY BLAKE. WHAT A DAY!! |

THE FUTURE: There was a new motorcycle at the 1977 Six Hour, the Yamaha XS1100 which was performing Travelling Marshall duties. In hindsight I wonder how many Six Hour 'experts' assessed the 'huge XS tourer' as the ideal Six Hour Racer for the 1978 Castrol Six Hour.....
YAMAHA XS1100