CASTROL SIX HOUR - 1975: Changes to the regulations in 1975 allowed the BMW R90S (Bike No.1) 'equipped with a fairing' to compete and BMW employed Ken Blake to ride the entire race solo! No one doubted Ken's ability to go the distance however Kawasaki had a 'Dream Team' in the form of Gregg Hansford and Murray Sayle piloting a Z1 900.

RACE DAY: The Le Mans start was preceded by a HUGE cannon blast, when the field 'blasted off' Warren Willing disappeared over Bitupave Hill to reappear at Honda Corner with daylight second, he proceeded to stretch that amazing lead further, reaching Amaroo's Stop Corner when all the other entrants had just started to appear at Honda, incredible. The race would be somewhat cruel to Willing and Hurley Wilvert (USA), a deflating rear tyre and engine issues forced them out of contention.
| | |
| --- | --- |
| | |
| THE 'TROUBLESOME' CANNON FIRING PRECEDED THE LE MANS START | #3: WARREN WILLING 'IN THE LEAD' ON THE H2 750, DAYLIGHT SECOND! |
| | |
| --- | --- |
| | |
| #4: CHEVELL/MAYES, #6: ALAN HALES AND #5: GREGG HANSFORD | #10: TONY HATTON, #1: KEN BLAKE AND #2: JOHN WARRIAN |
| | |
| --- | --- |
| | |
| #1: KEN BLAKE, R90S AND #17: MICK COLE, KAWASAKI 900 | #7: LEN ATLEE, 11: ROSS BARELLI AND #23: ROGER HEYES |

THE CHEQUERED: Team Kawasaki Australia riders, Gregg Hansford and Murray Sayle on their Kawasaki 900 won the event with 335 laps covered, incredibly Ken Blake riding alone was second on the BMW R90S finishing on 333 laps with Jim Budd and Erik Soetens third on another Kawasaki 900 with 331 laps covered. The huge disappointment was reserved for John Warrian, riding a Ducati 900SS (Bike No.2), John actually went into the lead with less than an hour to go only to have the machine fail with less than thirty minutes remaining.
A Triumph Trident (Bike No.7) in the hands of Len Atlee and Rob Hinton survived to the end of the race, achieving 303 laps but wait Mick Hone (Bike No.9) rode a similar machine solo achieving 322 laps!, I am still amazed that 'Meriden' Tridents survived the six hours given the appalling reliability my then new T150V displayed!!
| | |
| --- | --- |
| | |
| #5: MURRAY SAYLE TAKING THE CHEQUER | #5: KAWASAKI 900, DOING A LAP OF HONOUR |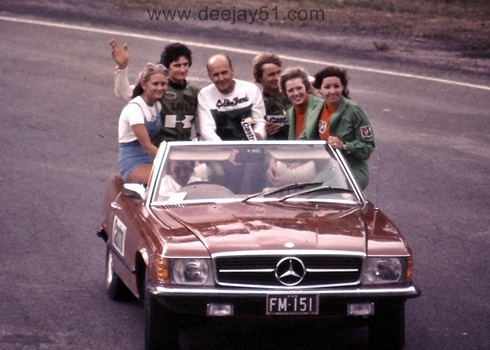 #5: MURRAY SAYLE (WAVING) WITH NEVILLE DOYLE (CENTRE) AND GREGG HANSFORD, ON THEIR VICTORY LAP

A FANTASTIC SECOND PLACE FOR KENNY: Ken Blake rode the entire six hours and the BMW R90S never missed a beat. An amazing feature of Blake's R90S was the lack of tyre wear and at least one less fuel stop compared to the Z1's.
#1: KEN BLAKE RODE THIS MOTORCYCLE 'SOLO' FOR SIX HOURS AND CLEARLY NO TYRE CHANGE WAS NECESSARY, LOVE THOSE METZLERS!!